Last night, we launched a brand new product offering – Zazzle Profile Cards! Zazzle Profile Cards are perfect for meeting up, connecting up, and maybe even hookin' up .
We've got three sizes to choose from skinny, traditional business, and chubby – and, 11 different paper types (including a gold paper type – I love goooolllllldddddd!). Also, the profile card design tool allows you to automatically populate your MySpace, Facebook or LinkedIn information onto the cards.
But, the crème de la crème is the ingenious skinny card ejector. This little gadget, allows you to sport your cards with a touch of James Dean meets James Bond suave, which is sure to impress everyone when handing out your skinny cards.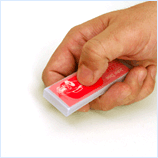 So check out the Zazzle Profile Cards and get started designing one today. Choose from more than 1,500 card templates, or, if you want to start selling your own profile cards, head over to the profile cards design tool and get crankin' on your own amazing designs!
Also check out the business cards page for you business savvy folks.