Check out the hot new threads on Zazzle. No I don't mean new apparel skus like zip-up hoodies and organic bags, I mean the THREADZ! Yep, you got it, we've just launched the first EVER, real, high-quality on-demand custom embroidery! That means you can choose from great community embroidery content and customize it or upload your own designs to Zazzle and create REAL embroidered products from embroidered hats, and embroidered hoodies to embroidered bags and more. Check out some examples below of the world's first on-demand embroidery.
Also, watch every embroidered design you create stitch out with the stitch player! It allows you to see your design before you buy (and it's just really cool).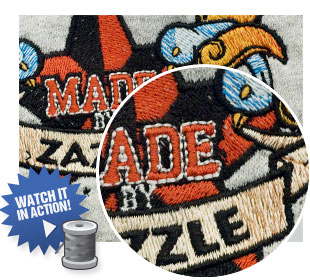 Don't forget Zazzle contributors – start publishing your embroidery designs to the marketplace and start selling retail-quality on-demand embroidery now!
Finally, our new embroidery product was so HOT that it actually set off the fire alarm at the Zazzle HQ – how's that for a product launch! Check out the embroidery design that was just too hot for the office (you knew it was going to be the Zazzle Logo of course!).


Learn more about embroidery, custom embroidery, and embroidery designs at Zazzle.