Hooray for new featured seller interviews!  A new seller will be featured bi-weekly on the Zazzle blog, as well as in the Featured Seller section of the Community Page! Our first seller interview is with Bill Abbott, a cartoonist from New York who has been a Zazzler since 2003, the very early days of Zazzle. See below for the interview, and be sure to check out his Zazzle Store, mayc00p. Enjoy! :)
Zazzle: First off, tell us a little bit about yourself.
Bill Abbott: First and foremost, I have a family who supports me and believes in me, even when I am an unbearable knucklehead. I've been a cartoonist for as long as I could effectively hold a writing utensil. My work has appeared outside of Zazzle in numerous magazines, greeting cards, web sites, books, calendars – you name it! I've also had the privilege of serving over 17 years in the military (and continue to), including tours in Iraq and elsewhere in the Middle East, for which I am honored to have stood among the finest people I have ever known. And I like the color blue.
Zazzle: What's your inspiration for your designs?
Bill Abbott: After many years as a cartoonist, I had finally developed characters that I enjoyed drawing and giving expression to. I had always thought the actor Walter Matthau had the perfect face for deadpan humor, and I've tried to incorporate his funnier traits into my characters. The glasses were inspired by my great grandparents who wore the type you see in my cartoons. The female was drawn with Ethel Merman-like characteristics, which I hope lends enough personality to make them memorable – guess we'll see!
Zazzle: What has been your favorite design you've created, and why?
Bill Abbott: I spend a lot of time both writing and drawing all the cartoons you see on Zazzle, so it's hard to pick out one that's above the rest in my mind. Among my favorites are the one where Saint Peter has locked himself out of Heaven's Gates – again – and has to have security let him in. Another is among the earliest cartoons I created which was featured in last February's Reader's Digest, and which doesn't use the characters I'm most known for. It's where there are three Neanderthals; one is lying on a rock slab, and the other is making introductions while the third is standing over the prone figure with a boulder over his head. The caption reads, "..and this is Ralph, your anesthesiologist." For some probably unhealthy reason I liked the way that one came out, and I've gotten very positive feedback from the public regarding it.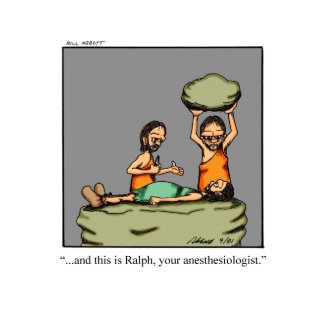 Zazzle: What is your favorite Zazzle feature? How do you use it?
Bill Abbott: For sellers, there is a great deal to applaud when it comes to the user-friendly nature of creating products on Zazzle. I'm not particularly computer savvy, so any complicated methods for getting my work online would take too much time away from producing art. There is still much for me to learn and to improve on with Zazzle, and my stores are nowhere near reaching their potential, but the great information available on the Zazzle message boards and the tutorials throughout the site give me confidence that I'll eventually get to where I want to be.
Zazzle: Do you have any fun stories about being a seller on Zazzle?
Bill Abbott: Actually I do, and it's one that gives me a great deal of confidence in the professionalism and awareness of the Zazzle crew who looks out for my copyright protections. I had received emails, I think three in total over the course of my six or seven years with the site, informing me that I had violated a copyright and that my material would be removed immediately – infractions against my own copyright by me! Apparently I hadn't gotten my permission to use my material, which I later graciously granted to myself in order to stay on the right side of copyright law. I emailed the person who sent me the notice and thanked them for their diligence, but I assured them that I was me and intended to remain so for the duration of my time with Zazzle and while I exist on this earth. A very funny moment, and one that I was sincerely grateful to have had, knowing that there are watchful eyes protecting me and my creations.
Zazzle: What got you interested in selling your art on Zazzle?
Bill Abbott: Truthfully, I can't remember exactly how I came to find out about Zazzle, but it didn't take long to figure out what it could do for me and others struggling to bring their work to the world through the Internet. Every so often I'll browse the message boards and profit from the exceedingly positive experiences and the willingness of other store owners to share information. The more I read, the more it motivates me to expand my work on Zazzle and build a better browsing experience for those who visit my pages.
Zazzle: What tips can you give someone who is just starting out on Zazzle?
Bill Abbott: Zazzle can provide a window through which the world can view and embrace your work – so make it your best, and it will be noticed.
Thanks Bill!