Due to popular demand; welcome to the new weekly featured seller interview!
Bradley W. Schenck not only has a couple of amazing galleries (Ars_Celtica and Retropolis_Travel), but he's been a huge help and inspiration within the community, helping sellers setup their stores using the Advanced Store Customization option (many of his tips can be found here).  Be sure to check out the interview below, and pay a visit to his galleries Retropolis_Travel and Ars_Celtica!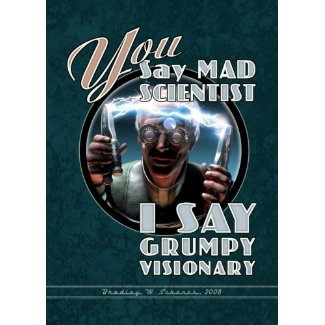 Bio:
Bradley W. Schenck is a shiftless layabout and wastrel – and yet is entirely self taught in that demanding field.
Born in California, the artist began making images in the middle 1970′s and has seldom stopped, since.
Some of his earliest work in illustration was for small role-playing game companies. In fact a few of those little books now command such amazing prices that he wishes he'd kept boxes full of them.
During the late '70s and the 1980s, Bradley did more small press work and some illustration for music labels. At least one of those album covers was for a vinyl-pressed record. Which, like most everything, tends to make him feel foolishly ancient.
He spent a few years building musical instruments but eventually, when computers got interesting, he began to work in computer graphics.
That led to a decade and a half in which he was lost in the woods of the computer games business. Happily, he escaped in 2005 and has been living by his wits ever since.
Zazzle: What's your inspiration for your designs?
Bradley: This is so much like that question "Where do you get your ideas?" that I'm going to give the same answer:  I have a closet just for ideas.
But that's a little glib, I guess, so I suppose I could add that I spent decades working on other peoples' ideas, until a few years ago I looked around and realized that if I kept that up, my own ideas weren't going to get out into the world and have lives of their own.  So the work I do these days is that work that seems to me as though it wants to exist.  Ideas that sort of take hold and won't take no for an answer: ideas that I know won't ever exist unless I help them out a little first.
Because that's the sort of ideas they are, it makes sense that they probably grow out of everything I've seen and thought about and liked.  The Celtic art at Ars Celtica grew out of decorative work I did, mainly in the 1980s, now updated and transmogrified by the experiences I've had since.  There's a lot of influence there from early 20th century books, from the Celtic Revival work that came out of Ireland at about that same time, and – more recently – from experiments I've done that combine these traditional Celtic knotwork patterns with more modern, recognizable symbols like the Biohazard symbol.
While over at the Retropolis Travel Bureau, it's all about what we used to think – or, honestly, what our grandparents or their parents used to think – about the kind of future we might get… if we were lucky.  There are some pretty obvious influences on that work:  streamlined industrial design (from the days when even our toasters looked like they were about to take flight),  the 1939 New York Worlds' Fair, and some of the science fiction in pulp magazines and comics from the 1920s and 1930s.  The least likely influence on that work is the popular music of the same era.  I've used song titles and quotes from songs for the titles of a lot of my Retropolis pictures.  That's something that makes more sense to me than I bet it does to anyone else.
And along the way, I've spun that work out into the product designs that you see in my Zazzle stores.
Zazzle: What has been your favorite design you've created, and why?
Bradley: Oh, no you don't:  I'm too smart for that one.  I love all my children equally.
But among the ones I love most equally I guess you'd find things like the Ctheltic Cthulhu and Triskelion Mandala at Ars Celtica, or the Space Piracy recruiting graphic, and "You say Mad Genius…" at Retropolis Travel.  And now that I've picked them, I see that the first, third and fourth are the kind of designs that show you a sort of world of their own, and I bet that's why I chose them.  Windows into a place that doesn't exist, but maybe ought to.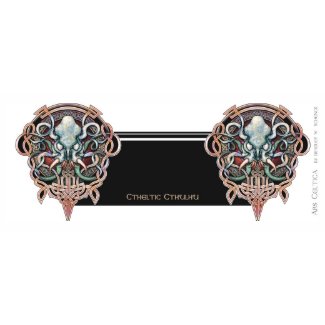 Zazzle: What is your favorite Zazzle feature? How do you use it?
Bradley: I was lucky enough to arrive at Zazzle just before the store customization system became available and I've enjoyed working with that, but I think as far as my products are concerned what I've liked most is creating customizable business cards and greeting cards – especially a series of "Photo Frame" greeting cards that let the shopper drop a photo or graphic into one of my Celtic borders.  That's just such a neat kind of product to offer!
Zazzle: What tips can you give someone who is just starting out on Zazzle?
Bradley: To not think that the job's over when you've done your designs and placed them on products.
The world is full of people who will be thrilled to find your products… but not one of those people gets up in the morning wondering where to find you.  You have to help them find you.  That means that part of your job is to learn as much as you can about search engine optimization – because most of your shoppers are likely to come to your store through web searches.  Another part of your job is to learn to see your store and its products the way a shopper sees them – can they get right to the things they'll want to buy?  Do they really understand what you're showing them, the way you're showing it?
You should try to think of every possible way that you can get these interested people into your store, while getting as few of the "wrong" people in there as you can manage – especially if you're paying for ads that bring them to you!  It's not enough to just drive traffic to yourself.  You need to get targeted traffic, which means those visitors who are likely to want what you're selling.  That's the part of the job that just never stops.
Thanks Bradley!