New Zazzler Andrew McNally (andymcnally) talks to us about the influence behind his cartoons, and what he loves about Zazzle.  Check out the interview below and don't forget to check out his store andymcnally!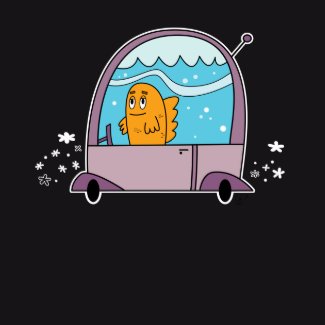 Bio: When Andy McNally was a young boy, he became stranded in a field not far from his house. Fortunately a swarm of wild honey bees found him, and took him to raise as their own. "You can never have to many worker bees", was their motto. He lived happily with the honey bees, until one day it became apparent to all of the other bees that he could not fly. Even though he easily brought home the most pollen every day, he was voted out of the hive. Hearing a loud dull thud out in the field (see earlier mentioned voting, by angry pro-flight bees), his real parents rushed out of the house and rejoiced at finding the now grown boy. They celebrated by having a spot of tea, with fresh honey.
Alas, the bliss of the reunion was short lived. His parents learned that he had not discovered the secrets of making honey and most importantly that he could not fly. A vote was held, once again, and it was decided that he must leave home and find a job.
Andy has been drawing since he was old enough to hold a pen or pencil.  The only thing better than drawing, is spending time with his daughters.
Zazzle: What's your inspiration for your designs?
Andy: My designs come from many places in my imagination, which was heavily encouraged as a child and even now by my daughters.  My mother and sister are both artists, so it runs in the family.  I'm inspired by, what I refer to as, retro style cartoons that I watched as a child in the 70′s.  The work of Hannah Barbara, Looney Tunes (Warner Brothers), and Dr. Seuss are all influences on my style.  Another big inspiration comes from the future styles and technology from the World's Fair and Disney's Future World, which created my early fascination with robots and gadgets.  I just knew that we would have jetpacks and live on the moon by now.  I love heavily styled cartoons and art.  Some of my newer influences include the work of Genndy Tartakovsky (Samurai Jack and Dexter's Lab) and Craig McCracken (Powerpuff Girls and Foster's Home for Imaginary Friends).  I should also mention that literature is a big influence.  I love science fiction, fantasy, and children's literature, but especially the works of Roald Dahl and Neil Gaiman.
Zazzle: What has been your favorite design you've created, and why?
Andy: I like everything that I create so that is a tough one.  I draw to please myself, first and foremost, and then really hope that other people like them also.  Often an image or character pops into my head and will not leave me alone until I draw them.  If I had to pick my current favorite, it would be the Curious Gentleman and the Mysterious Ice Cream Shop.  A story came along with that illustration, so it is lingering in my mind right now.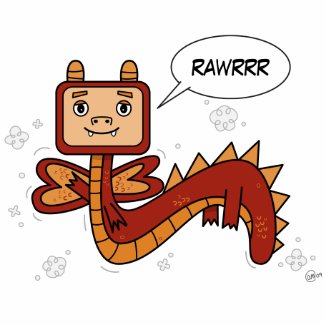 Zazzle: What is your favorite Zazzle feature? How do you use it?
Andy: Zazzle has many wonderful features, and I'm inspired by all of the beautiful shops and artists.  My favorite features right now are the site customization tools, the new scrollable Store Category(working on new category buttons for my shop), and my true favorite is just how freaking easy it is to create a product with my artwork.
Zazzle: Do you have any fun stories about being a seller on Zazzle?
Andy: I still think I'm pretty new to the whole thing.  I'm really passionate about telling other people, especially artists about Zazzle and the opportunities that exist.  I teach computer classes for my day job, and I was telling one of my classes about having a featured item for the day.  We were taking a break from class, and my phone vibrated letting me know that I had email.  I had sold two shirts from my shop.  One of my students had gone to my shop during the break and bought the shirts.  I was giddy with excitement, and I still am every time I get an email saying that I made a sale, someone has joined my fan club, or leaves a comment.
Zazzle: What got you interested in selling your art on Zazzle?
Andy: I remember finding Zazzle on Twitter, which is a great tool for connecting with others and promoting your shop.  I had tried some other sites to sell my art, but had not really made any sales.  I signed up for Zazzle and instantly fell in love with the site and the ease at which I could create a product.  I sold a t-shirt in my first 30 days, which matched my total year sales from another site.  I was hooked after that sale.  I fall in love with Zazzle all over again with each new site improvement and product addition.  It is a wonderful place full of opportunity.
Zazzle: What tips can you give someone who is just starting out on Zazzle?
Andy: Again, I still think of myself as someone just starting and constantly learning.  My advice would be to make products that you want to buy and to just keep exploring new ideas.  It costs nothing more than your time, and you have so much to gain.  Also, use social media, like Twitter, Facebook, Tumbler, and YouTube to help promote your store. Engage people in a conversation and show them your passion, rather than trying to sell them something.
Thanks Andy!