Jamie, from the Zazzle Store jamierushad, was kind enough to sit down and answer some questions about his inspirations and his friend (a fellow Zazzler) that introduced him to Zazzle. Check out the interview below and don't forget to check out his store jamierushad!
Bio: Jamie Rushad is a graphic designer, web developer, illustrator, 3-D and Flash animator and fine artist working out of Albuquerque, New Mexico. He has worked as a graphic designer for a large jewelry company, grocery chain and a print company, and was an elementary school art teacher.
Zazzle: What's your inspiration for your designs?
Jamie: I really like quirky designs, tv-shows, movies, and general artwork that has a bit of a sense of humor usually inspires me. Sometimes, the things that will make me laugh really make little sense to most people. I believe I'm border-line cheesy.
Zazzle: What has been your favorite design you've created, and why?
Jamie: I really love the Spaghetti Cat design I did.  It's just silly. I mean c'mon, what little kitty eats spaghetti with a fork and a bib.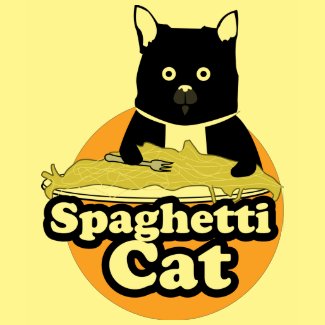 Zazzle: What is your favorite Zazzle feature? How do you use it?
Jamie: I really love the feature that allows you to place designs on multiple products. I remember the days doing individual products, and that was tedious. It made me appreciate the mass production much, much more.
Zazzle: Do you have any fun stories about being a seller on Zazzle?
Jamie: I started a while back with the intention of paying for my Honeymoon with my earnings. Some people laughed at the idea, and some were pretty supportive. I was able to accomplish this, and as I type my wife and I are sitting on a cliff-side in Santorini, Greece. I know that sounds cheesy, like one of those infomercials with the guy saying he got rich from selling knife-sets or something. Yet, here I am!
Zazzle: What got you interested in selling your art on Zazzle?
Jamie: My friend Albert (spacedust) had a really great design he did of Sarah Palin, with the "We Can Do It" Rosie the Riveter pose and it really took off. He showed me how it works and now I am an addict.
Zazzle: What tips can you give someone who is just starting out on Zazzle?
Jamie: I think the most important tip I can give someone is to post at least one design a day. You'll build a following of people looking to see what you just created.
Thanks Jamie!