Nathalie, from Lioness_Graphics, sat down and talked with us about her obsession with lions, and her children's book.  See below for the interview, and be sure to check out her gallery Lioness_Graphics!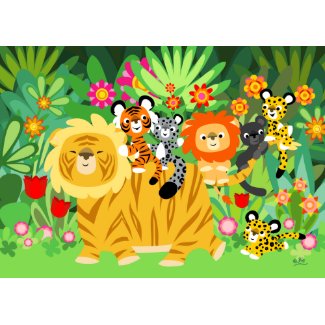 Zazzle: First off, tell us a little bit about yourself.
Nathalie: I am a UK-based artist, animator and author. I have been working as an animator and character designer for video games, TV and film since the early 1990s.  With the exception of the time I spent in my mother's womb, since pencils and paper weren't readily available there, I have been drawing and creating images pretty much all my life and deriving much enjoyment from it.
I'm currently working on a comic, but I already have a published bilingual (French-English) children's book call "Red Jim", that I authored and illustrated.
Zazzle: What's your inspiration for your designs?
Nathalie: The animal kingdom: be it praised and loved for its infinite variety of colours, shapes and forms!!! Nature in general, cuteness, science fiction, monsters, nonsense, absurd, mythology… of course, the list expands all the time but these are my main, and constant sources of inspiration.
Zazzle: What has been your favorite design you've created, and why?
Nathalie: It's kind of hard for me to choose: it's a bit like having to choose among my children.  But if I had to, my cute cartoon pigs design is actually among my favourites.  I also really like my cartoon roaring lion.  Lions are actually a lifelong obsession of mine…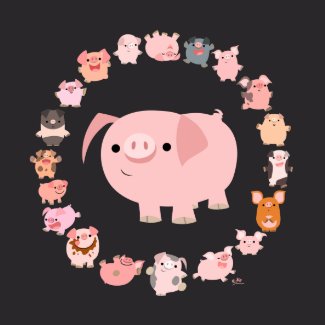 Zazzle: What is your favorite Zazzle feature? How do you use it?
Nathalie: I like the fact that you can tweet your products directly.
Zazzle: What got you interested in selling your art on Zazzle?
Nathalie: The quality of the products, their sheer variety, and the fact that customers can customize them directly, in many ways.
Zazzle: What tips can you give someone who is just starting out on Zazzle?
Nathalie: I would just recommend to them to have fun.
Thanks Nathalie!