Tricia, from Trennea and CandyStore, sits down and talks with us about her inspirations and her goals as an illustrator.  See below for the interview, and be sure to check out her galleries Trennea and CandyStore!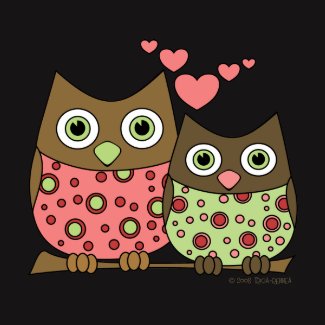 Zazzle: First off, tell us a little bit about yourself.
Tricia: I am freelance illustrator whose first published artwork at the age of 8 in a local paper, it was all the town could talk about, at least in my mind. My favorite projects include creating portraits and paper-dolls for my clients, although I have been known to draw a cupcake or two. I live in lovely Northern Nevada with my snazzy husband, two swell boys and the incredible Miss Daphne.
Zazzle: What's your inspiration for your designs?
Tricia: Most of my illustrations are inspired by fashion, fun, and the idyllic lifestyle we all dream about.  They are sophisticated while still holding onto some innocence.  I am also inspired by any and all things that make me smile.   My goal, as an illustrator, is to create images that will bring happiness to people, something that connects them to a very true and fun part of themselves.
Zazzle: What has been your favorite design you've created, and why?
Tricia: My favorite illustration is Birds of a Tree. When I was drawing it I wanted to create something that had a retro-vacation, tiki-party, adventure feel.   Yet, I wanted it to be very fresh and clean.  I like that the design looks like it could have been drawn in 1960 or yesterday.  Most importantly, it makes me smile every time I look at it.  Yes, happiness is very important to me.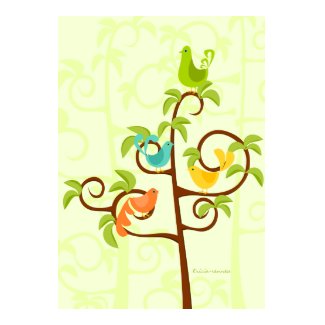 Zazzle: Do you have any fun stories about being a seller on Zazzle?
Tricia: I have become good friends with another seller here, Shannon of Hahpistuff, and one day we were having a conversation about how I should decorate my living-room.  We agree one particular print would be perfect on a long empty, windowless wall. We (yes I am dragging her down too) thought the biggest size framed, matted, the whole thing would be perfect.  A few days later the print arrived… uhm… it really was colossal!  That day we both learned that you should read the measured size, and not just decide "Oh really big would be good".   It required special hanging brackets, but it looks amazing!
Zazzle: What is your favorite Zazzle feature? How do you use it?
Tricia: I like everything about product creation. I like that we can choose the name of our merchandise, give a description, decide how the images are place on the product, all the while being as logical or whimsical (or someplace in between) as we wish.
Zazzle: What got you interested in selling your art on Zazzle?
Tricia: I found Zazzle on a whim; I wasn't really looking for it.  I started playing with it and noticed I could sell my illustrations.  With each sale my confidence grew, as my confidence grew I put more effort into my store and it grew, and well, I think you can see where this is going.
Zazzle: What tips can you give someone who is just starting out on Zazzle?
Tricia: Be true to yourself, your style and your dreams.   Create things you love, things that move you, and you will be successful.
Thanks Tricia!