Liz, MissKika, was kind enough to sit down and answer a few questions about her background as an illustrator, and the fun she has on Zazzle. Check out the interview below and don't forget to check out her store MissKika!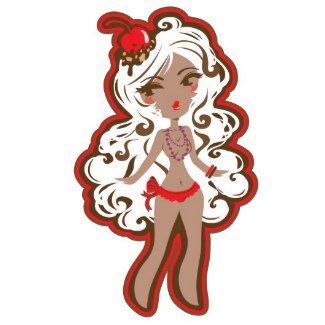 Bio:  South Florida- and now San Francisco based freelance illustrator Liz Lorini has been drawing fashion girls since she was a little girl, using a paper doll as a stencil and drawing hair styles and clothing on the outline with paints and glitter. From the dreams of childhood our careers are made!
As Liz grew up, she became inspired a lot by graphic art styles she found on product packaging while she studied abroad in Nagoya, Japan during high school. It was such a visual place, everything had a cute/sexy/fun illustration on it, and every day she went out (even if it was to the grocery store) she was inspired and wanted to draw more and more. Because of this exciting and visual environment she rekindled her love for art and knew exactly what she wanted to study in college. Liz attended the Ringling School of Art and Design in Sarasota, Florida with a concentration in Illustration and graduated with her BFA in 2006.
After finishing school she packed her pink paint brushes up and moved out to San Francisco, CA to work as a full-time freelance illustrator and gallery painter under the name "Miss Kika" for galleries across America and internationally. She enjoys strawberry tea, 1980′s girly nostalgia,  and creating fun and colorful pieces for girls of all ages to enjoy!
Zazzle: What's your inspiration for your designs?
Liz: I get a lot of my inspiration from random things I enjoy… patterns, sweets, old 1980′s girls shows, you name it!  I try to pull in everything I love into my work.
Zazzle: What has been your favorite design you've created, and why?
Liz: Right now I like my rainbow pieces, because they are so colorful and fun to work with.
Zazzle: Do you have any fun stories about being a seller on Zazzle?
Liz: It's really fun bumping into people I know while I am flipping through Zazzle items and sellers.  Often I am friends with them, or maybe read the art blogs they write, but have no idea they made products with the work.  It's just a nice little surprise to search around and see something familiar you did not expect to find on the site
Zazzle: What is your favorite Zazzle feature? How do you use it?
Liz: I really enjoy just making products in the builder! It's so easy to get things loaded and looking great!  Since I work with really crisp lines, DPI and image quality are really important, so the builders (being so easy to use and clear) really help me get the best result with my product.
Zazzle: What got you interested in selling your art on Zazzle?
Liz: My boyfriend works next door to Zazzle, and brought home some shirts one day that the company had made as gifts!  I thought the quality was really awesome and decided to try offering some products myself!
Zazzle: What tips can you give someone who is just starting out on Zazzle?
Liz: Make items you would buy! If it's something you would wear or use, chances are someone else will feel the same and stop by your shop!  Also, I found it very helpful to order a sample of the products I was selling. When you see what the final product looks like, it makes it easier to design online and create a nice result!
Thanks Liz!