Orangutan Foundation International (OFI) is setup to support the conservation of the orangutan and its habitat, while caring for the orphaned or ex-captives in order to help them make their way back to the forest.  They recently joined Zazzle Giving, and Rebecca Reeder (an OFI volunteer) was kind enough to answer a few questions about the foundation, and what brought them to Zazzle.  Check out the interview below and don't forget to check out their Zazzle store Orangutan_Foundation.
Background:  OFI employees help to patrol the Tanjung Puting National Park area which is home to 6,000 wild and rehabilitated / released orangutans.  One of those orangutans is Akmad who appeared on the cover of the October 1975 National Geographic Magazine!  She is still having babies of to this day!  Orangutan Foundation International is also working to save the orangutans' habitat (the rain forest).  In the wild, orangutans are found only on two relatively small islands – Borneo and Sumatra.
Zazzle: What's the inspiration behind your charity?
OFI – Rebecca: The roots of Orangutan Foundation International go as far back as the 1970's when Dr. Birute M. Galdikas was one of the three women chosen by Louis Leakey to study the great apes. The other two women are Jane Goodall and the late Dian Fossey.  Those two women went to Africa, and Galdikas went to the island of Borneo.  In the mid 1980's, Galdikas and Dr. Gary Shapiro officially founded OFI. Dr. Galdikas has been studying orangutans and working to save their rainforest habitat for more than three decades. Her work is the longest running continuous study of a mammal – the intelligent and gentle, red-haired orangutans.
Zazzle: What can people do to help support your charity?
OFI – Rebecca: A very fulfilling and easy thing to do is to "adopt" an orphan orangutan through OFI's main website www.orangutan.org.  This helps to defray the costs of providing food, medical attention, and "jungle school" caretakers for close to 400 orphans.  Other donations to OFI support the work to save the orangutans' rainforest habitat and the newer program of planting new trees in previously destroyed areas.
In addition, we are excited about OFI's presence here on Zazzle.  All of the store profits at OFI's Zazzle store (Orangutan_Foundation) go directly to OFI headquarters.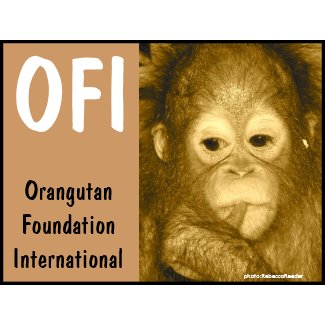 Zazzle: What got you interested in joining the Zazzle Giving program?
OFI – Rebecca: Over the years I have admired the wonderful postage of other charities on Zazzle (and bought from many of them myself) and I've also designed products to benefit OFI. Finally we had an opportunity to describe the professional, but fun, concept of Zazzle to Dr. Birute Galdikas and obtained her OK for a separate store for OFI.
Zazzle: Do you have any fun stories you'd like to share about working with Orangutans?
OFI – Rebecca: There are so many that I don't know where to begin. The orangutans are so gentle and intelligent that sometimes one has to really stop and say, "Wait, each creature here is an orphan." However, one day after I had purchased a car load of food for afternoon snack time at OFI's Borneo Care Center (on the Indonesian side of the island), I was passing out fresh oranges and then some peanuts.  A few of the orangutans decided that oranges were common, something they'd had before, but peanuts were special, so several of them threw their oranges at us (and they are VERY accurate pitchers) and then started clapping to indicate they wanted peanuts.  Another funny story is that an older female, who was being prepared to be taken to a release site in the rainforest, held out her hand from her transport cage as if she wanted to hold my hand and say goodbye.  I was very flattered and went over to hold her hand, but instead she grabbed my sunglasses and tried to put them on top of her head like mine had been.
Thanks Rebecca!