Mariana, from the FloatingLemons Zazzle Stores, was kind enough to sit down and answer some questions about her inspirations and what brought her to Zazzle. Check out the interview below and don't forget to check out her stores FloatingLemons & FloatingLemonsType!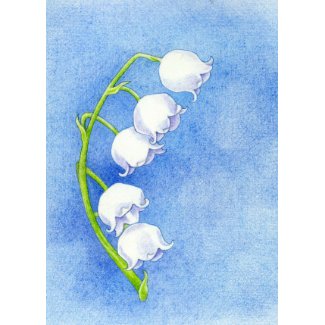 Zazzle: First off, tell us a little bit about yourself.
Mariana: Although I've always been interested in art, and after high school actually managed to do a one year foundation course, life and other interests/distractions got in the way. I studied literature, got an MA from NYU, returned to Malaysia to work as a journalist, in advertising and as a volunteer at a writer's centre in Australia amongst other things. So it wasn't until 3 years ago (after a 20 year 'break') that I picked my colored pencils up again and, with the help and encouragement of the Everyday Matters Yahoo Community, began working at my art seriously.
The great thing about Zazzle is that I get to live anywhere in the world and am still able to work on my stores. I'm fortunate that my other job is as 'mobile', so I am now living in the inspiringly beautiful French countryside and still working at both jobs. My aim is to learn other mediums and eventually give up the 'other' job and concentrate fully on my artwork. Thank you to Zazzle for that opportunity!
Zazzle: What's your inspiration for your designs?
Mariana: That's simple … pretty much anything and everything I see around me. I do try and look at things from different angles so that others who view my work realize that even everyday objects can look beautiful if seen anew from another perspective. We tend to take the things around us for granted and lose sight of the beauty in simple things.
Zazzle: What has been your favorite design you've created, and why?
Mariana: That's a toughie. I tend to like what I've most recently been working on, especially if it in some way tells me that there has been some progression in my work — that I've actually improved in some way! I'm constantly experimenting with my colored pencils and layering and mixing, so each work is in itself therapeutic even when I get to the inevitable mid-way "I hate it and it is going to be terrible" spot. I keep going and hope that I'll get to the "ah, it  might turn out relatively decent after all" bit and usually end up heaving huge sighs of relief when it's done, upon which it becomes a favorite till I start the next one.
Having said that, I love coffee and tea and have been known to consume rather large amounts throughout the day, so my drawings like my Coffee Break are pretty much top of my list of personal faves.
I've also recently started producing hand drawn (cleaned up on Photoshop and Illustrator) text designs as well, and I've ended up opening a separate store for them. A couple of these have become favorites, as I can indulge and either write out favorite sayings and quotes or work on the Names Database that I've started up. Will eventually get names down from A-Z and am receiving many requests for those … they make unique gifts for friends and family, hint hint.
Zazzle: What is your favorite Zazzle feature? How do you use it?
Mariana: Customization! Being able to design every single one of my products individually. I love the greeting cards and have plans to spread my artwork through all three available sides of the card … am in awe of the fact that I can include that in my overall art plan … haven't been able to take as much advantage of it as I'd like to as yet, but ideas are on their way.
Zazzle: Do you have any fun stories about being a seller on Zazzle?
Mariana: Hmmmm … thing is, just discovering and joining Zazzle has turned the whole ensuing process into a fun experience for me, so it's difficult to single out any one particular story. The first thing I noticed as I fumbled my way through setting up my first store, was that the other Zazzlers were incredibly helpful and friendly. I haven't been at the forums enough lately as I've been extra busy (also had a huge operation this summer that left me exhausted for a long while), but there's always someone who will answer any question, help solve problems or just chat about what they're going through — the Zazzle community is wonderful, they're the ones full of fun tales to share!
Zazzle: What got you interested in selling your art on Zazzle?
Mariana: The wonderful range and variety of products available. It seems almost magical to me that anyone can customize or create a pair of shoes, skateboard, t-shirt and include matching cards and stamps … my dream come true. Have I mentioned yet that I tend to get a wee bit obsessively carried away by things like this? It's one of the small pleasures of life for me. Of course, once I got started I couldn't stop … and don't intend stopping anytime soon either.
Zazzle: What tips can you give someone who is just starting out on Zazzle?
Mariana: Firstly and most important: marketing marketing marketing! It's terribly important. Imagine walking into a huge shopping mall … how would you get customers to find your store amongst all the rest? You have to find ways of letting people know that you exist or nobody will walk through your doors.
At least 80% of my time is spent marketing in one way or another. Start a blog, join facebook, twitter away. But be subtle about it, please. I find that I'm enjoying communicating with others and have discovered many talented people through my marketing efforts so that's an inspirational incentive.
Secondly, I try to look at my designs from the perspective of a shopper. The question I constantly ask myself is: Would I buy what I'm putting up? I have to admit that there are occasions when I'm not too happy with a drawing I've done but I put it up anyway and it ends up surprising me by being hugely popular … thing is, I do ensure that I at least design and place it as well as possible for the product it's going onto. It's the least I can do for anyone who takes the time to browse through my store — I do want to make it a pleasant experience for them and encourage them to return.
Thanks Mariana!