Magda, from the Zazzle store BluePlanet, was kind enough to sit down and answer some questions about her experience as a Zazzler. Check out the interview below and don't forget to check out her store BluePlanet!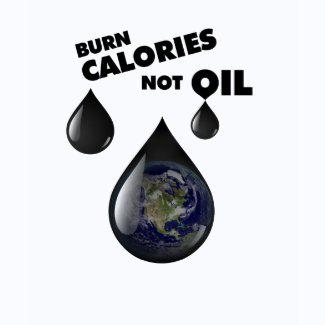 Zazzle: First off, tell us a little bit about yourself.
Magda: I was born in Romania, I have Greek ancestors and I currently live in France. I am fascinated by our beautiful planet, hence the name of my Zazzle store. I enjoy studying anything related to the creative fields and I have always taken my hobbies seriously and turned them, whenever possible, into full-time jobs.
I'm a self-taught graphic designer with an education in Computer Science and Economics. I've been working in advertising since 1997 (and enjoyed every minute of it), starting as a graphic designer in a packaging and production company and then continuing as a creative director of an advertising agency in Bucharest; I eventually got interested in web design, motion graphics and multimedia and starting with 2001, I have been in charge with the interactive division of a full service advertising company. Four beautiful years followed, with a great team, challenging projects and national and international awards.
By the end of 2004, I have finally opened my own full-service creative studio.
I have been lucky, during the years, to be surrounded by wonderful artists and very talented professionals – art directors, copywriters, photographers, creative directors or web designers – from whom I have learned a great deal about the advertising industry and visual arts in particular.
Zazzle: What's your inspiration for your designs?
Magda: Everything that surrounds me, everything I read or hear, everything I see in my dreams.
I believe any artist unconsciously develops a guiding pattern of personal likes and dislikes, an inner encyclopedia of abstract ideas that keep revolving until they find their way to the surface and are finally materialized.
For me, some ideas pop up in the most unexpected moments and when that happens, I write down a few words or make a quick sketch to be developed later on. If I don't catch them while I can, they fly back into the abyss.
Zazzle: What has been your favorite design you've created, and why?
Magda: I create each design with much care and although it might sound strange, I always get a bit nervous when the time comes to publish the final product into the marketplace. Moreover, I never publish products that I wouldn't buy myself, so it would be very hard to choose a favorite.
However, I believe my favorite product line is "Animal Feelings" and especially the Crying Bunny illustration -
I had lots of fun creating it, the scene was inspired from a real life incident and although simple, it's one of the designs that still makes me chuckle, every time I look at it.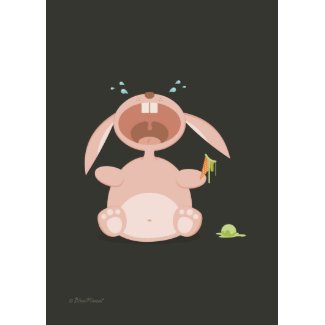 Zazzle: What is your favorite Zazzle feature? How do you use it?
Magda: There are so many great features I don't use yet, that I feel almost guilty sometimes!
Generally speaking, one of the many things that I like about Zazzle is the great flexibility that the whole system offers. You can make a fully customizable product template or you can lock everything and offer a finished product; you can even play with the products and invent new ways of using them, like making a bookmark or a gift tag out of a business card and so on… You can keep the basic appearance of your store or you could go crazy and customize everything beyond any recognition. You can design and sell your products or just promote other people's products and make money. Zazzle has a top-notch platform and the possibilities are endless.
Zazzle: Do you have any fun stories about being a seller on Zazzle?
Magda: Once I was contacted by a customer regarding one of the business cards in my store. It was about the Blue Denim Jeans business cards and this lady needed some help with the customization. She also wanted me to send her a sample of the card in order for her to "see and feel the texture" before buying. At first, I didn't understand exactly what she wanted but after a few e-mails back and forth, I realized that she believed the cards were printed on real denim fabric instead of paper.
Zazzle: What got you interested in selling your art on Zazzle?
Magda: I knew about Zazzle long before I opened my store but it was in 2008 when I finally decided to join as a seller. As expected, Zazzle has quickly become my favorite playground. It's the place where I can showcase and sell my personal projects, a place with no deadlines, no endless meetings, no client demands and no production headaches. I can make money and have fun at the same time, doing what I love to do. Who could resist that?
Zazzle: What tips can you give someone who is just starting out on Zazzle?
Magda: Anyone who joins Zazzle should know that, even if you can join for free, nothing can be achieved if you don't invest time, dedication and energy into it.
I will try to highlight a few first things to consider for someone who is just starting out:
Your username – Make sure you carefully choose your username. It will hopefully become your brand and it will be very difficult to change it once you set up the store and have already created hundreds of products. And you wouldn't want your store to be promoted as joe6389, would you?
Read the… manual! – Read as much as possible of the documentation available on Zazzle FAQ / Help sections and blogs and also on the public forums, before starting to work on your products and your store. Learn how to prepare your design files, how to create each product, where to find the guide files, how to customize and organize your store, how to properly use the Quick Create tool and so on. It is very important to know what you're doing before starting doing it. It will also save you much time and frustration later on.
SEO or Search Engine Optimization – Use titles, description and keywords (tags) relevant to your products and help the search engines find you. A product that cannot be found cannot be bought. And after all, it's free marketing, why not taking advantage of that?
Keep it simple – Avoid turning your store into a cluttered, confusing place where you don't know where to start, where to look first or what to do. Keep your store user friendly, avoid strong color palettes and don't make potential customers leave your store with sore eyes.
Caution – Make sure you let your family and friends know that you're about to begin a wonderful journey and that you are going to spend a ridiculous amount of time in front of the computer in the months or years to come. Zazzle is addictive!
Thanks Magda!