Chuck, from the Zazzle store ChuckInk, talk with us about his cartoons, his inspirations, and his time at Zazzle. Check out the interview below and don't forget to check out his store ChuckInk!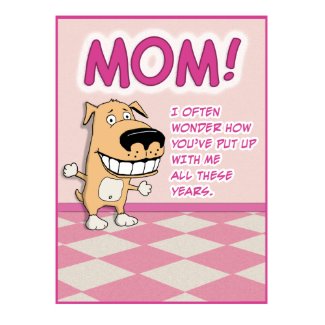 Zazzle: First off, tell us a little bit about yourself.
Chuck: I'm a freelance humor writer and cartoonist who lives with his wonderful wife in Oak Forest, Ill., a suburb of Chicago. I've written and designed countless humorous greeting cards, many of which have been published by major greeting card companies. I also create cartoons for newspapers and various web sites. I have two websites I update frequently with my cartoons: Captain Scratchy and Words and Toons.
Zazzle: What's your inspiration for your designs?
Chuck: I try to put an unexpected twist on everyday life. Oh, and it helps to have talking animals as pets.
Zazzle: What has been your favorite design you've created, and why?
Chuck: Being asked to pick your favorite designs is like being asked to pick your favorite child or your favorite nose. But I'll spin the wheel and pick my Dog and Chicken (dog asking chicken why he isn't crossing the road). That was my first design featuring that particular dog, who has come to be known as Rufus and is one of the characters in my webcomic, "Captain Scratchy."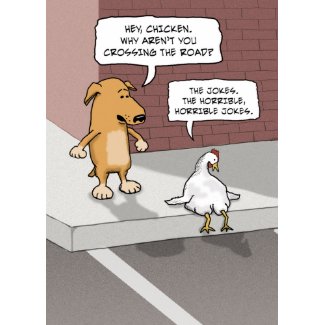 Zazzle: What is your favorite Zazzle feature? How do you use it?
Chuck: I create a lot of greeting cards, so I appreciate having the ability to design the inside and the back of the card in addition to the front.
Zazzle: Do you have any fun stories about being a seller on Zazzle?
Chuck: Zazzle has given my artwork great exposure that's led to freelance work (freelance cartooning is my primary job). I've tried some other online stores, but Zazzle is the clear-cut winner, in my view.
Zazzle: What got you interested in selling your art on Zazzle?
Chuck: It's a great outlet for artists in terms of exposure and feedback. Creating artwork can be isolating at times, so the feedback is much appreciated. The money earned is just a bonus!
Zazzle: What tips can you give someone who is just starting out on Zazzle?
Chuck: 1) Don't rush your work … let it marinate in your mind for a while before posting it for the world to see. One of the best habits I've developed is to step away from a "finished" project for at least a few days — or a week or two if time permits — and then go back and look at it with fresh perspective.
2) If you take joy in the creation process, it will show in the finished product. Art without passion is pretty pointless.
3) You are an original. Make sure your artwork is, too.
Thanks Chuck!