Hilly, from the Zazzle store Felidae52 (and numerous others), talks with us about her inspirations and her time at Zazzle. Check out the interview below and don't forget to check out her store Felidae52!
Zazzle: First off, tell us a little bit about yourself.
Hilly: Born and bred in the medieval town center of Celle (Germany) which is the home of the Hanoverian horses (In 1735, George II, the King of England and Elector of Hanover, founded the state stud at Celle.). It was also a British garrison town, and I met my fellow artist husband there (he´s the one that taught me to paint and draw, and his fantastic airbrush and pencil art is featured on many of my products!) We spent the first quarter of our marriage in England and moved back to Germany about 30 years ago. Apart from my husband I have a great son, a wonderful daughter-in-law and two fantastic grandchildren. Painting, drawing, web design and digital 3D and graphic design is a hobby for me. I work full-time as head of waste management in a firm that is a global player in industrial waste removal and recycling of all sorts of materials. I do look forward to retirement in about seven years time so I can spend day and night doing what I like best!
Zazzle: What's your inspiration for your designs?
Hilly: Anything and everything – I have cute and cool moments as well as gothic and fantasy ones. And sometimes I just like to create graphic designs for my card shop, or fancy decorated initials. That´s one reason I have (at the moment) 12 themed shops – with a lot more in planning.
Zazzle: What has been your favorite design you've created, and why?
Hilly: All my designs as well as my paintings are like kids – some I like more, some less – but like a good
mom I have no favourites. If I had to pick one I suppose it´s my husband´s painting of a tiger because I loved the original which is sold now, and my digital version of a Celtic knot ornament from the Book of Kells because I love the traditional art and enjoyed creating this one especially.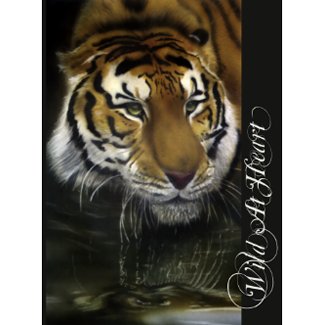 Zazzle: What is your favorite Zazzle feature? How do you use it?
Hilly: At the moment it´s not so much a feature, but Rob Greenleaf´s affiliate link builder – I am building a large affiliate @domain to my main shopping website to promote my favourite Zazzle shops, and that little tool has literally saved me hours of work!
Zazzle: Do you have any fun stories about being a seller on Zazzle?
Hilly: I think the best moment was after the recent changes, when I noticed red signs telling me to update my payment settings so Zazzle could pay me in several of my shops – I completely forgot to add the information, and had a few nice sums accumulated.
Zazzle: What got you interested in selling your art on Zazzle?
Hilly: We have tried to sell our original paintings but soon found out why most artists starve. To sell prints proved to be too expensive – and then I found a POD site about five years ago. I wanted to branch out and was pointed to Zazzle by a fellow artist about 18 months ago and was instantly hooked. I love the variety in products, the feedback with the Zazzle staff is outstanding – plus the great community was what really made me stay and concentrate entirely on my Zazzle shops.
Zazzle: What tips can you give someone who is just starting out on Zazzle?
Hilly: Read the forums, read the lenses on Squidoo that helpful Zazzlers have created, read the blogs with tips – before you start! Be patient – Rome wasn´t built in a day, and sales will come slowly but surely. Create quality, not quantity. Even shops with a few dozen designs make money, and the competition is big and busy! Most of all, love what you are doing!
Thanks Hilly!