Jasmine, of the Zazzle store Strangeling, was kind enough to answer some questions about her inspirations, her art, and her time at Zazzle.  Check out the interview below and don't forget to check out her store Strangeling!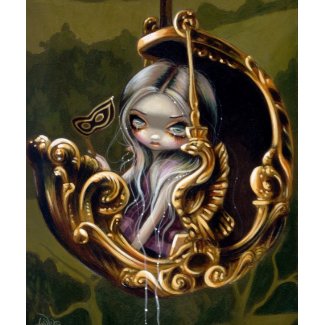 Bio: Jasmine Becket-Griffith is a full time fantasy artist working in acrylic paints.  You may recognize her paintings from countless books, magazines and merchandise lines as well as projects with Disney, the Bradford Exchange, the Hamilton Collection, Hawthorne Village, her dolls from Ashton-Drake, products through stores such as Target, Hot Topic, Spencer's and more.  Jasmine has been selling her paintings online since 1997 and is well known for her wide-eyed characters that explore fantasy, gothic, fairy, pop surrealism and lowbrow art themes.  Jasmine lives in Celebration, Florida with her husband/assistant Matt and their cats.
Zazzle: What inspires you to paint your Gothic/fantasy worlds?
Jasmine: I have always had an overactive imagination, since I was a little girl.  I very much express myself in my paintings.  A lot of things inspire me – nature, history, travel, art museums, music, books, etc. and I think it all kind of gets mixed together in my head – then I paint it all out on canvas.  A lot of my paintings are self-portraits (though usually highly stylized) to one extent or another.  Sometimes the mundane world is kinda boring, and I use my paintings to make things a bit more interesting.  I paint pretty much all day every day (acrylics on wood or canvas) and have a lot of fun with it.
Zazzle: Out of all of the paintings you've done, which one is your favorite?
Jasmine: Wow, that's hard to say – my favourites change a lot!  I think my favourite painting currently is "Marie Masquerade" – I just came back from Paris and fell in love with Rococo & Baroque portraits.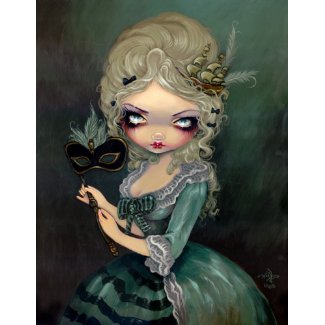 Zazzle: What got you interested in selling your art on Zazzle, and what's your favorite Zazzle feature?
Jasmine: Basically, I kept getting requests from fans and collectors of my work who would say "Hey – you need to be on Zazzle" or "Why aren't you on Zazzle" or "I want to buy your art on t-shirts – can you make me a shirt on Zazzle?" and things like that – LOL.  So finally I just sat down one day and decided to poke around at the Zazzle.com site and was very impressed.  I ordered a few items and the quality was very nice.  Within an hour of opening the box up, I had my first products up on the site!
I love so much about Zazzle, especially the ease in creating new products.  For example, I will finish a painting, scan it in, and then ten minutes later my fans can already have that painting on a t-shirt or a postcard.  It is simply amazing, especially compared to other methods out there.  I also love being able to promote my store too – I post the links in my Facebook and my website, and it provides easy access for my customers and collectors.
Zazzle: Do you have any fun stories about being a seller?
Jasmine: Actually quite a few!  Some of the best things about Zazzle are the ways that it helps put my artwork more in the public eye.  I've had some celebrities (musicians, actors) find me through Zazzle, and have also had art directors and publishers find me there (a great portfolio showcase!).  I've also had former classmates – even from Elementary School find me and reconnect there, which is pretty funny.  Once I saw an order pop up from "Kachina in Overland Park, KS" which made me laugh out loud – it was my own sister, buying a t-shirt from me, hehe.   The wide variety of people who discover or collect my work through Zazzle never ceases to amuse me!
Zazzle: Any tips you want to share that may help newer Zazzlers?
Jasmine: Hurry and sign up!  Seriously though, I very much recommend it to any artists and designers out there.  It takes hardly a few minutes to join up, and it costs you absolutely nothing.  Putting thought into some of the layouts of the images on the products is important, and I also recommend allowing the viewers to use the "Customize It" option – so many of the people who purchase my items love to customize the products with their name, change the colours, etc. to make it especially for them.  Also – I always make sure to let folks know when Zazzle is running sales – I tell my fan clubs about the new coupon codes, and that always inspires new orders as well as helping people save some money.
Thanks Jasmine!!