Steve, of the Zazzle store SteveThomas, talked with us about the inspiration behind his retro/propaganda style art work and about his time at Zazzle.  Check out the interview below, and don't forget to check out his store SteveThomas!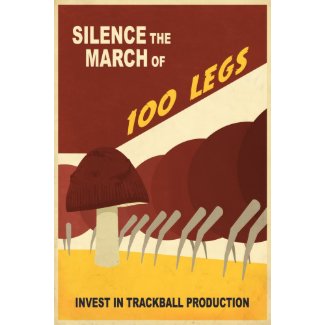 Zazzle: Tell us a little bit about yourself – where you live, your profession, etc.
Steve: I live and work just outside of the Twin Cities of Minnesota. I've been creating artwork professionally for about 12 years working mostly in newspapers as a graphic artist and illustrator. Between family life and a career, finding the time to illustrate isn't always easy, but getting the kids involved is a great way to share in the fun. I found Zazzle sometime back in 2004.
Zazzle: What's your inspiration for your designs?
Steve: I draw inspiration from vintage advertisement art and illustration. There is a certain life to it that can't be created with modern means (although I keep trying). Most of my work these days is completed digitally, but I'm working to master more of the traditional media in order to get the feel I want out of my art. My background is in graphics that use a lot of text and typography. I really enjoy the sometimes haphazard placement of text used in old ads, whether it be travel posters, product posters or propaganda. I also like the direct and to-the-point messages they portray. I try to channel some of that energy into my posters – plus adding some campiness and tongue-in-cheek tag lines.
I'm also very inspired by the retro-futuristic images from the mid-twentieth century. All the pulp book and magazine covers printed with images of strange aliens and heroes with blasters saving damsels in distress. The damsels also inspire me as can be seen in my pin-up series.
Zazzle: What has been your favorite design you've created, and why?
Steve: My favorite design to date is probably my 'Travel to Jupiter' poster. The colors, composition, text and images came together easily and it was very fun to do. I think it was my third or fourth image I did for the Planetary Travel series. And I think the Europa Air logo at the bottom really worked out and I was able to incorporate Jupiter's big red spot into that design.
Zazzle: What got you interested in selling your art on Zazzle?
Steve: Zazzle is a great way to sell artwork in many forms without having to keep a stockpile in the basement. The prints are of a very high quality and reasonably priced. Zazzle is worldwide and is able to get my products in front of anyone with internet access. The exposure alone is priceless.
Zazzle: Do you have a favorite Zazzle feature, if so what is it?
Steve: I would say the referral code that earns me extra cast! I place this code on all my images that link back to my Zazzle store, including my website and blog.
Zazzle: Have any fun stories you'd like to share about being a seller on Zazzle?
Steve: I've made some great connections with fellow Sellers who have been kind enough to Tweet or Blog about some of my products. I've also acquired some commissioned illustrations from people seeing the products in my store.
Zazzle: What tips can you give someone who is just starting out on Zazzle?
Steve: Create something that you would want to either wear, place on your desk or put on your wall. When I first started, I rushed to get things in my store and the quality suffered. They weren't things I would necessarily buy, but thought others might. Turns out I didn't sell any so I took them down.
Also, when you do upload something, create a bit of a buzz about it. Email some of your favorite blogs and ask them to do an entry on your work. Twitter is also a great place to go. Cool things spread quickly on the web.
Thanks Steve!!