Tod, from the Zazzle Store ninjahijinx, was kind enough to sit down and answer some questions about his inspirations, and his time at Zazzle. Check out the interview below and don't forget to check out his store ninjahijinx!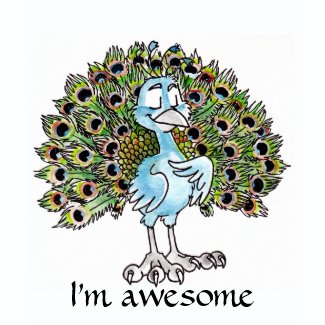 Zazzle: First off, tell us a little bit about yourself.
Tod: I'm a 29 year old freelance artist living in Bellingham, Washington.  I've been doing art full-time for the past two and a half years, and previously worked for an awesome fantasy-themed summer camp in Colorado.  I also make puppets and webcomics.  I've done a few book illustration jobs, with hopefully more in the future!  I share my home with two cats and eight geckos.
Zazzle: What's your inspiration for your designs?
Tod: I've always loved animals, and been an active daydreamer.  Fantasy and animal cartooning comes pretty naturally to me as subject matter.  Animals can be majestic or beautiful, but then they'll go and pull something utterly silly.  I like reflecting that in my art.  My favorite designs are the ones that make me laugh while I'm working on them – the 'I'm awesome' peacock and the 'I come in peace' alien in my store were fun to do.
I'm especially fond of cats, and live with two, and they're a big inspiration for my art.  They have such quirky personalities.  Cats are also useful to practice from, from a cartooning standpoint, because they can pull off so many different, weird poses.
I also draw a lot of monsters.  I like taking something that might be fierce or scary and making it goofy or friendly looking, instead.  It's a fun juxtaposition.
Zazzle: How would you describe your style?
Tod: I draw cartoon animals and monsters, in a lighthearted style.   I try to create art that can appeal to both kids and adults
Zazzle: Are there any artists you look up to when it comes to designing?
Tod: There are too many to mention all of them.  I draw inspiration from children's illustrators, old Victorian illustration, fantasy game art, comics, all kinds of stuff.
Zazzle: A lot of your works seems to be illustrations, when did you start drawing? What's your favorite medium to work in?
Tod: I started drawing when I was old enough to hold a crayon.  I'd pull my dad's textbooks off the bottom shelf as a toddler and scribble all over them.   Art is something my parents encouraged me to stick with, and it's been a lifelong passion.  I got into cartooning and comics, specifically, in third grade.  I work mostly in ink and watercolor, with a little gel pen and marker.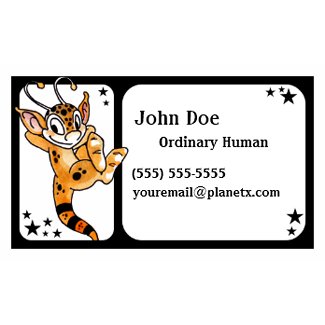 Zazzle: What's your favorite Zazzle product to create?
Tod: There are a lot of fun things to choose from, but I especially like the mugs and business cards.  I like the idea of using my traditional media cartoons to add a little fun to business card designs.
Zazzle: What got you interested in selling your art on Zazzle?
Tod: I first learned about the site from an artist friend who also designs PoD products.  For about a year, I only had a couple lonely designs sitting in my store.  I'd put working on my store aside to work on other projects, and then, this May, made a sale.  I decided to put some real time into my store, and now I'm hooked!
Zazzle: What tips can you give someone who is just starting out on Zazzle?
Tod: The advice I'm following is to have as many designs on as many products as they'll fit on.  It's been working for me so far, and I've got a big stack of sketches and new designs to add.
Thanks Tod!