See Zazzle through the eyes of new seller, Patricia aka Zazzler pmacarlson! She has only been with Zazzle since February 2010, but was fabulous enough to answer some questions about what inspired her to become a Zazzler.  Check out the interview below and don't forget to check out her store pmacarlson!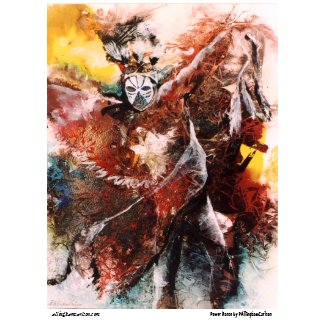 Zazzle: Give us a brief bio, where you are from and when you started making art.
Patricia: I may have been born an artist, because I was drawing and experimenting with art as long as I can remember.
I live in Pennsylvania; have my whole life, in a lovely section of the country with access to camping and hiking, beautiful seasonal changes. It seems that part of my way of learning to process the world was through drawing it, and seeing how to depict what I saw. I got started at age 5, and never stopped. Once I got a grasp of how to show what I saw, I turned to combining that with what I felt and imagined. Much of my art is centered around nature, people, and the spirit and mysteries that lie in both. I aspire to paint a picture of something more than what is there.
I acquired a degree in art education, and have enjoyed many years as a private art teacher. Teaching comes very naturally to me; I much enjoy the creativity and spontaneity of children.  I have had the pleasure of working with many fine people over the years, and living in art on a regular basis has enriched my life. Being an artist is a compulsive profession, in order to be at peace with yourself, you can never stop creating.
Zazzle: A lot of your work seems to be more paintings, when did you start painting? Are there other styles of art you enjoy as well?
Patricia: I started painting in high school with my first formal education in technique and material usage. I learned to use oil, tempera, and watercolor paints, and then fell in love with watercolor in college. Experimenting with the medium, I've enjoyed adding collage, acrylic, pastel, powdered pigments, and textures to my paintings, all of which create unique effects. I also love working with clay and sculpture, and drawing in every medium is like breathing to me.
Zazzle: When you're not creating art, what are your other hobbies?
Patricia: I love nature, and hike and camp every chance I get. Study of plants, animals, birds, insects, habitats, geology all lead to more questions and better understanding of how everything fits together and serves its purpose. And the more I see, the more I imagine about what could be, and the more I want to paint. I am an avid reader, and love gardening. My husband and I have worked hard on our home and spend a lot of time in our back yard entertaining with friends and family and playing with our dogs.
Zazzle: Any artists you look up to when it comes to designing?
Patricia: I've always been drawn to the drama and emotional expressionism of Paul Gauguin, and the beauty of Monet's impressionism. .They seems to have painted on a different level than mere reality.  My focus has become not so much perfection of image as to giving a feeling of the place, person, or dream I might have. Here at Zazzle I am in awe of the work of many of the other artists . Browsing through the many stores, products inspire me to try new designs with my art. Some of the artists at Zazzle I enjoy are romanceworks, michaelcreese, and stwright044.
Zazzle: What's your favorite Zazzle product to create?
Patricia: I most enjoy creating shoes at Zazzle, it is challenging and fun to see them line up just right, and look the way I'd like to wear them. Same with tee shirts, I create the images on different styles I'd like to wear. Posters and prints are very easy to design with my painting images. Seeing the quality printing of Zazzle's products is a pleasure, the colors are rich and intense and true to the art image. Greeting cards are also a pleasure to work with, as the art sometimes holds a deep meaning to me which invites expression of feelings in a card.
Zazzle: Being a newer seller on Zazzle, what are you most looking forward to?
Patricia: I hope to continue to develop my skills as a designer here, creating unique products and beautiful images to share.  It is rewarding to have my art reach so many people. It is very nice to receive a positive comment from another vendor. I have made some good friendships with the real people who are Zazzlers. I always look forward to writing and sharing with these new friends, this is a very supportive community. But I think the most fun I have at Zazzle is posting a new image after I have just finished a painting in my studio, creating a poster and a card to start, and then watching the comments and reactions. Fun and exciting to an artist, and so gratifying when a Today's Best award is bestowed!
Zazzle: What got you interested in selling your art on Zazzle?
Patricia: A friend had mentioned Zazzle, and it got me to brainstorming about new venues for my art work. I have accumulated a lifetime's worth of work and hundreds of images over my years as an artist, and finding places to show and sell my watercolors was challenging. I have traveled about displaying at juried outdoor art festivals, placed and sold work from galleries, but felt that I wanted to seek out a larger audience. My husband built a fine web page, and it occurred to us that the cyber-world would provide the largest audience that could be. We researched several other sites, but came to Zazzle because of the formats, products, and ease of design it provides. Working through Zazzle has been an overall rewarding experience
Zazzle: What tips can you give someone who is just starting out on Zazzle?
Patricia: Bide your time, reactions and sales evolve slowly, but steadily. Enjoy your products as you create them, and gage their success by the other member's reactions. There is much to learn in this creating community, and people very supportive and helpful. Try new things, learn the tools provided, it comes together beautifully. Also, reach out to other artists and creators on this site. There is so much talent to be seen, and some real friendships to be forged. Ideas shared can benefit all involved, and the more you share, the more you receive. Just like life.
Thanks Patricia!