Jerry, from the Zazzle store JerryLambert, was kind enough to answer some questions about his inspirations and his time at Zazzle. Check out the interview below and don't forget to check out his store JerryLambert!
Zazzle: First off, tell us a little bit about yourself.
Jerry: My name is Jerry Lambert, and I live in West Virginia. I first found Zazzle through Google while searching for PODs back in 2007 to host some of my election designs on products. I have a cute little Dachshund named Snuggle Bugs, she is my baby. I am currently working on a robot army to take over the world (in a good way). I can see people's auras.
Zazzle: When and how did you first become interested in art? How long have you been making art?
Jerry: I have been creating art since I can remember. I used to "sculpt" things out of red clay when I was a kid because some of my family lived on a hill of red clay and that was all there was to play with when I was up there. I started drawing and sculpting when I was very young and started painting in my late teens. One of the first things that I created that I can remember being proud of was a simple drawing of a tree that I did in 8th grade. It was the first creation of mine that ever got noticed as "art". I am told that drawing still hangs in the classroom now some 25 years later. I don't think anyone becomes interested in art, I think that artists are born to create so it's sort of an instinct that one can't ignore. My favorite things to pass the time have always been something to do with creation from music to sculpting to 3D modeling. I moved over to the digital world around 10 years ago and it pretty much changed the way I spend my time creating. There is just so much that can be done digitally that cannot be done in the real world and it is much less messy and more cost efficient. I do still dabble in oil and acrylics though and I still whittle with my dremel occasionally, just not as much these days.
Zazzle: How would you describe your style?
Jerry: I try not to have a style or niche at Zazzle. I find that offering an assortment to the masses is the best way to go business wise, which would explain my numerous sections. I would like to find a style and stick to it but as I move forward I find myself experimenting with different things. It's probably because I get bored easily and it helps my motivation to continue trying out new things. Artistically I would consider myself somewhere between a cartoonist and an expressionist. I also dabble in Pop Art and Realism. Some of my stuff might be described as strange, goofy, comic and a little freaky but I also try to inject different types of emotion into anything that I create whether it is a turtle design for a child or a political design. When I am creating designs for children I try to think like a child, which not surprisingly comes very easy for me. When I am creating political or current event designs I actually have to do a little research. But either way, I find it best to inject some sort of emotion into your work even if it is simple humor or happiness or paranoia or something as complex as fear or pain or love. To get someone to buy a product with your art or photography or even just text on it you have to make them feel something when they look at that product.
Zazzle: What's your favorite Zazzle product to create?
Jerry: I would say t-shirts because you can put lots of different types of designs on them and they are great ways to express yourself for the designer and the shopper, but I am also really liking the new cases and I also like the binders. The main reason I like the cases a lot are because they are very tactile and can be created in more ways than t-shirts or posters, same is true with the binders. Some of my most popular cases are simple faux designs or novelty designs. When I create a t-shirt at Zazzle I feel like I just stuck some of my work on a t-shirt but when I create a case I really feel like I am a huge part of creating that product. It may just be my perspective but I feel like I am more of a part of the product creation with the cases and binders especially if the design is made to cover the entire product. Binders and cases are going to be carried around as opposed to hung up, set aside or worn, and that opens up a window of opportunity for a wide array of designs ideas. Using my guitar designs, the acoustic version for example, I created every little detail of that design separately from the wood grain background to the shadows of the strings because the idea was to make the case and the binder look like a real guitar and I would have never thought to have gone into such detail for a t-shirt design. So, making binders and cases are really fun because they make me think differently and work in levels that I don't ordinarily work and I also like creating shoes because of this.
Zazzle: What is your favorite Zazzle feature? How do you use it?
Jerry: I would say my favorite feature at Zazzle is its wonderful community of sellers. The forums are a wonderful place to collaborate and share ideas and gain knowledge but also a great place to make friends and communicate with people just like me and also to support each other. I also like Zazzle Associate's Program. At the moment I enjoy being a referred seller, but I also plan on utilizing the program to feature fellow Zazzlers on my own websites in 2011. This is actually a part of the community aspect, but I thought that I should point out that the Associate's Program is a wonderful thing. Aside from the community, the best feature at Zazzle is customization. One can be very creative with this as well. People love personal stuff and shoppers are people. Zazzle makes customization a breeze.
Zazzle: Do you have any fun stories about being a seller on Zazzle?
Jerry: My youngest nephew has paid a lot of attention to me while I am Zazzling and seems to have really grown an interest in it. He is constantly drawing things for me to put on products and I encourage him because it is a great way for him to learn and many people, especially children, need inspiration to be more creative. One day he brought me a very cute little seagull drawing and I decided to work it up for a product. I put it on a few products including a binder, and the binder won a Today's Best Award! He was all smiles for days after that. That moment stands out the most but there are lots of stories I could tell about my experiences with Zazzle. I don't want to bore our readers though as I struggle with brevity so I will just say that they have all been great experiences.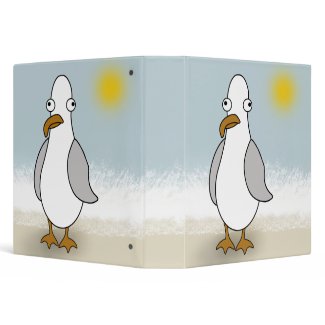 Zazzle: What got you interested in selling your art on Zazzle?
Jerry: Rob. I had some stuff up here at Zazzle back in 2007 and added a few more things throughout the elections, but never really got interested until one of the Zazzle team members named Rob contacted me and offered to help me get going. He was just such a cool guy that I decided to put some more time into Zazzle and I slowly started putting more and more time into it because I just like the "feel" of Zazzle. It is very seller and community oriented which I really like and creating products here at Zazzle is very easy and even sometimes fun. I also liked the personal interaction so much that I decided to make Zazzle a priority. That seems like a long time ago, because Zazzle has grown so much since then and has become one of the most famous sites on the internet. I am very happy to be along for the ride. With a move back to the other side of the world and the birth of our second child Zazzle has been a godsend.  I do not get as much Zazzle-time (an average of 2 hours a day) as I would like and I am definitely struggling to keep up with all the wonderful new products Zazzle keeps releasing, but I take each day as it comes and would recommend Zazzle to anyone as a buyer and a seller.
Zazzle: What tips can you give someone who is just starting out on Zazzle?
Jerry: Be patient. Just because you created a product 4 months ago and it hasn't sold, doesn't mean it isn't going to. Someone might buy 30 of them on Tuesday, you just never know. In the meantime, create more products. Be organized. Things can get out of control really fast so pace yourself and make lists and try to finish them. Don't be discouraged. When you come to the point where you are thinking of giving up, don't! This is a really great thing to be a part of. It has ups and downs. When you are up it's never as good as you thought it was going to be and when you are down you think you are never going to be up again. Yes, I borrowed that from the great Ray Liotta. Also, never get overly confident. Success is a lousy teacher; it seduces smart people into thinking that they can't lose. That wasn't me either, Bill Gates said that. When the going gets tough, there's always bacon and chocolate. That one is mine.
Create. Keep creating. If art is your passion, then I need not even say this, but never stop creating – that is the most important part. If you use public domain or purchased clipart, keep finding ways to use it on products. There is more than one hat for that penguin.
Promote. No one will know you are there if you don't get the word out. Zazzle has a huge pool of artists and the internet is pretty big too. Facebook and Twitter are great and seem to be the main tools for promotion at the moment, but also get some business cards and hand them out wherever you go. Be healthy. One of the most dangerous parts of what we do is sitting behind a computer for hours on end. Get up and walk around, stretch, pace yourself and limit your bacon intake (eat well).
Back up. Back up everything that you do from your artwork to your store code on separate drives. CDs, USB drives and online storage is worth the effort when you lose something that took you hours to do and can't get back.
Learn how to use customization templates. As I stated, Zazzle's customization tools make our products stand out so if you aren't utilizing them you are missing out on one of Zazzle's best tools.
Have fun. We all get moody and sometimes goofy, but have a good time with this and everything that you do in life. If something goes wrong, think about how much more wrong it could have gone and be happy it didn't go that way, because that was the more likely scenario. Zazzle is the gift that gives back.
Thanks Jerry!