Hannah, from the Zazzle store chopstix, was kind enough to answer some questions about her illustrations and her time as a Zazzler. Check out the interview below and don't forget to check out her store chopstix!
Zazzle: Give us a brief bio, where you are from and when you started making art.
Hannah: I'm 34 and a children's illustrator from the south east of England, where I live with my boyfriend and cat. Our son is due to join us when he is born in March!
Ever since I was a small child I've had fascination with pens, paint, glitter, crisp white paper and card etc – anything crafty. The first arty thing I actually remember doing was when I was about 4 years old and I tried to draw a starry sky!
Zazzle: What's your inspiration for your designs?
Hannah: I take a lot of inspiration from the carefree exuberance that small children have as they discover their world through adventures and stories.  I love the way that a mind like that can turn something normal and dull into a realm of fun and games, seeing the potential in everything and the best in everyone.
Zazzle: What is your favorite style to create?
Hannah: I prefer to create in the style of my children's illustrations more than anything else these days, especially since I started working professionally in that area.  Whimsy, inviting and friendly!
Zazzle: When you're not creating art, what are your other hobbies?
Hannah: Ooooh I love baking and interior design, plus I'm really getting into gardening too!  That's what I like to do after a long day of painting or sitting at the computer.
Zazzle: What has been your favorite design you've created, and why?
Hannah: I think it would be the 'Red Panda Mountain' piece.  I adored making it – it's full of textures and style that I love, unashamedly cute and full of fun!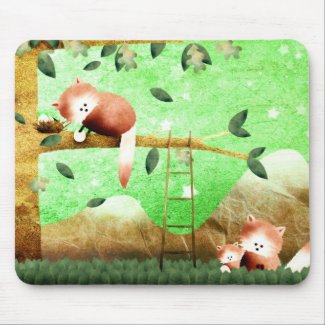 Zazzle: Do you have any fun stories about being a seller on Zazzle?
Hannah: Well, I went from html/css novice to hardened internet nerd in the space of a week while building my custom store front – talk about trial and error! It was a week of hair pulling, revelations and quite a bit of cursing… but I utterly reveled in it.
Zazzle: What's your favorite Zazzle product to create?
Hannah: Mousepads! They look great and they're an awesome way of fitting in a bit of illustration in a room.
Zazzle: What got you interested in selling your art on Zazzle?
Hannah: I first found Zazzle some years ago – I'd been searching for a better place to show up and sell my artworks, and I couldn't be happier when I stumbled across the Zazzle link. It was what I'd been looking for! Having such a fantastically diverse place to showcase my work is one of the reasons I love being a Zazzle seller – it's an amazing platform!
Zazzle: What tips can you give someone who is just starting out on Zazzle?
Hannah: Note what you'd like to achieve with your store, browse other stores and see what ideas you can get from them, and frequent the community forums and read about what others are talking about – you can learn a massive amount from there!
Thanks Hannah!