Mike, from the Zazzle store Bluntcard, answers some questions about his humor, and his time at Zazzle. Check out the interview below and don't forget to check out his store Bluntcard!
Mini Bio: I am a native Californian.  My interests are modern and vintage art, design and illustration.
Zazzle: When and how did you first become interested in art? How long have you been making art?
Mike: My mother was an artist and highly creative person. I have been drawing and painting since grade school.
Zazzle: How would you describe your style?
Mike: I am attracted to pop and modern art and iconic vintage illustration.  I really enjoy bright colors and text.
Zazzle: When you're not creating art, what are your other hobbies?
Mike: My other hobbies are web design and working on my website.
Zazzle: What's your inspiration for your designs?
Mike: Humor matched with iconic imagery.
Zazzle: What has been your favorite design you've created, and why?
Mike: I think my favorite design is the two ladies saying: Let's go somewhere and judge people.  It's a popular selling design and gives people a good idea about what Bluntcard is about.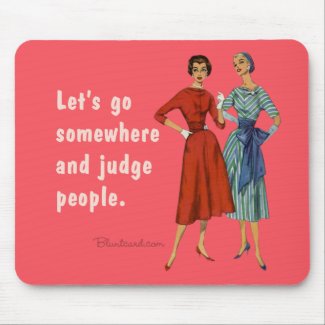 Zazzle: Do you have any fun stories about being a seller on Zazzle?
Mike: I had resisted making calendars for almost a year. I'm still not clear why, but after some encouragement from other sellers I decided to.  They sold really, really well. I now understand what Volume Bonus is.
Zazzle: What is your favorite Zazzle product to create?
Mike: Magnets.  They are simple and fun, and they sell well.  I also love the end result of creating calendars.  Calendars are a lot of work.  They are like creating a little book, but well worth it.
Zazzle: What got you interested in selling your art on Zazzle?
Mike: People wanted stuff, so I need to find a way to get people the stuff they wanted.  I found Zazzle, whose cool factor matched my website's style. I have no regrets.
Zazzle: What tips can you give someone who is just starting out on Zazzle?
Mike: I make things that I like.  My shop is products from my website Bluntcard.com, so I need to stay consistent to my niche. I think if you find a good niche and often offer new products, you'll have loyal returning customers.
Thanks Mike!