Cynthia, from the Zazzle store toxiferous, talks to us about her inspirations and who got her interested in Zazzle.  Check out the interview below and don't forget to check out her store toxiferous!
Zazzle: Give us a brief bio, where you are from and when you started making art?
Cynthia: Hi there, thanks for choosing me! I'm a self-taught graphic artist from Ontario, Canada and I've loved creating art for as long as I can remember. I never really thought I'd be making art for a living, but here I am! I created Toxiferous Designs in 2008 as an outlet for my ideas and it's become my passion. I love finding the fun side of things and have always had a delightfully strange imagination. It feels so good to know that my designs make people smile.
Zazzle: What's your inspiration for your designs?
Cynthia: I'm inspired by classic cartoons, colors, relationships with people and the world around me. No matter where I am, I always let my imagination take me away. Daydreaming is the best.
Zazzle: What's your favorite medium to use?
Cynthia: I've dabbed in many types of art, but I love making cartoony illustrations the most.
Zazzle: A lot of your work seems to be vector illustrations, when did you start doing illustrations? Are there any other styles of art you enjoy as well?
Cynthia: I started making vector illustrations three years ago and now they are my main focus, I also like to draw and paint occasionally. Origami is also a hobby of mine – there are few things that are more relaxing to me than folding cranes.
Zazzle: What has been your favorite design you've created, and why?
Cynthia: That's a tough question to answer. I think it's actually a tie between Geekicorn and Sis & P and the Mustached Dogs of Mystery! Sis & P features my brilliant best friend Jenny with her adorable basset hound and Geekicorn is ridiculous and awesome.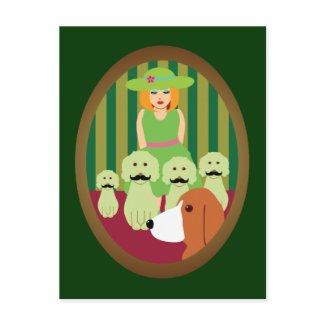 Zazzle: What is your favorite Zazzle product to create?
Cynthia: I love the new iPhone and iPad cases… they're fantastic!
Zazzle: What got you interested in selling your art on Zazzle?
Cynthia: My supportive and incredible boyfriend encouraged me to try it out. He has his own Zazzle store too! Designing at Zazzle is great, and I've always felt that it's a very warm and creative place.
Zazzle: What tips can you give someone who is just starting out on Zazzle?
Cynthia: Be original and be yourself no matter what, keep things fresh, always keep your personal goals in mind, and stick with it! Also, try not to get discouraged if you fall into a slump, we all have them!
Thanks Cynthia!