Maria, from the Zazzle store BlessedWedding, talks to us about her art and her time at Zazzle.  Check out the interview below and don't forget to check out her store BlessedWedding!
Zazzle: Tell us a little something about yourself.
Maria: My name is Maria. I'm a happily married mommy of three and a self-taught graphic/web designer and illustrator. I have Zazzleitis and I'm a Zazzleholic—In fact, I joke with my Zazzle seller friends that we need a Zazzle Rehab, haha!
Zazzle: What got you interested in selling your art on Zazzle?
Maria: I had just had my third baby (my daughter), and my husband was out of work, so we were in a major financial crisis and really struggling hard, trying to make ends meet. I started searching online for "work from home" jobs, and one blessed day, I stumbled upon an ad for Zazzle on a site all about "work at home moms". It changed my life forever! Now, thanks to Zazzle, I don't have to say "no" to my kids anymore. Zazzle has brought us happiness and peace, and it has been our biggest support! I want to take this opportunity to thank Zazzle on behalf of me and my family. You are truly a lifesaver!
Zazzle: When and how did you first become interested in art? How long have you been making art?
Maria: I've been drawing since the day I learned how to hold a pencil. My dad is a wonderful artist, and I used to watch him draw. Seeing him create art made me passionate about it, and as I grew up, I tried new mediums as well. I went from drawing to watercolor painting, and now I'm doing digital art.
Zazzle: How would you describe your style?
Maria: Lately, it has been digital and vector art, ranging in styles from mod to contemporary to vintage.
Zazzle: What has been your favorite design you've created, and why?
Maria: I actually have 2! The first is my Valentine Anniversary Card because when I was making it, it was our anniversary and I wanted to create something special for my hubby! I just love how it turned out with the swirls and the mixture of emotions in the design. My second favorite is my Medieval Vintage Invitation because I love fairy tales and everything about the Victorian era—It has a very "royal" feeling to it.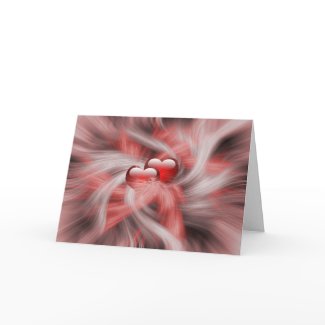 Zazzle: Do you have any fun stories about being a seller on Zazzle?
Maria: I have quite a few actually!
1. One day, this art buyer contacted me via my Zazzle store and said they were interested in one of my cards for a TV ad. I thought it was a scam, but the opportunity looked so delicious that I googled the company and found out that they were legitimate, so I called them and was just so excited that I blurted out "I googled you!"—We both burst out laughing.
2. There's one touching story—On November 25th, 2009, my best friend's lovely 3 year-old daughter, Alisha, passed away in a car accident. In March 2010, James from Heartlight Children's Memorial Hospital contacted me about designing memorial invites that they could give to parents who have lost their children. I was in tears. It was such a divine thing.
3. I had a wonderful bride order save the dates with stamps from me. Then, she fell so in love with the design that she not only ordered everything else for her wedding (magnets, invitations, thank you cards, menu cards), but she based her wedding theme on my design and even had a matching wedding cake! She also bought cards for their first Christmas together from me as well.
Zazzle: What's your favorite Zazzle product to create?
Maria: Invitations! They come in so many sizes, colors, and paper styles, and they have a very wide market! Plus, brides love to customize their invites in their own special way to fit their special day.
Zazzle: What tips can you give someone who is just starting out on Zazzle?
Maria: First and foremost, don't lose hope! You will learn and grow, so definitely keep on working to constantly add new products. Also, promote yourself (Facebook, Twitter, Blogs, Squidoo, etc.)! There is nothing shameful about self-promotion, and if you don't let the world know that you're there, how can you expect them to find you?  It's not a shop on the street that people walk by on a daily basis, so you have to announce your existence to the internet!
Thanks Maria!