New Zazzler Allyson, from the Zazzle store AllyJCat, talks to us about what it's like being a Zazzler and what she's looking forward to on Zazzle. Check out the interview below and don't forget to check out her store AllyJCat!
Zazzle: Give us a brief bio, where you are from and when you started making art
Allyson: I'm from Jackson, TN & have lived here my entire life. I started out with photography about 4 years ago. & then started learning more about graphic design.
Zazzle: What's your inspiration for your designs?
Allyson:  Clothes, Jewelry, Cupcakes, Make-Up & colorful things.
Zazzle: When you're not creating art, what are your other hobbies?
Allyson: I spend a lot of time at my church, so usually if I'm not at home creating I'm at church or hanging out with friends
Zazzle: Any artists you look up to when it comes to designing?
Allyson: I would have to say my mom & the creative team at my church… Great people with a great eye!
Zazzle: What's your favorite Zazzle product to create?
Allyson: I really love to design invitations.  My favorite design is my Modern Leaves Wedding Invitations.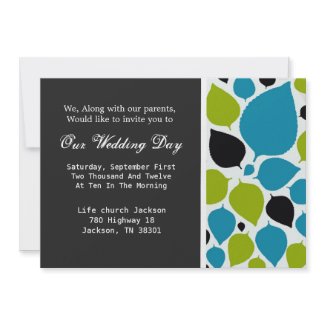 Zazzle: Being a newer seller on Zazzle, what are you looking forward to the most?
Allyson: Seeing myself & my career grow more and more. I really love that I get to create for a job.
Zazzle: What got you interested in selling your art on Zazzle?
Allyson: My mom, who has her own store, told me about it and how easy & fun it was! I started last year when I was 16 years old. I'm turning 18 this year, and just know my career is going to be amazing!
Zazzle: What tips can you give someone who is just starting out on Zazzle?
Allyson: Be patient, and have faith in selling your art on Zazzle.
Thanks Allyson!