Jenny, from the Zazzle store thebloggess, talks to us about her humor, her blog, and her time at Zazzle.  Check out the interview below and don't forget to check out her store thebloggess!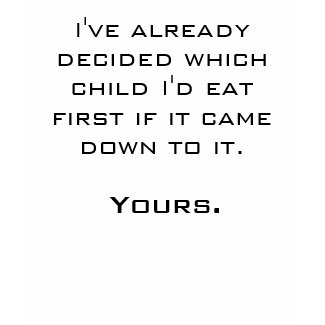 Zazzle: First off, tell us a little bit about yourself.
Jenny: My name is Jenny Lawson and I have a blog called thebloggess.com.  It's bafflingly popular in spite of being about nothing even remotely categorizacle.  Also, I am aware that "catagorizacle" is not a word.  I'm using it anyway because it's fun to say.
Zazzle: When and how did you first become interested in art? How long have you been making art?
Jenny: If by "art" you mean "really bizarre drawings and bizarre statements that make 90% of the world uncomfortable" then I would say I've been making art since I was in elementary school.  I was an early bloomer at being a strange misfit.
Zazzle: What's your inspiration for your designs?
Jenny: My life.  Most of my designs are inspired by a dead taxidermied boar named James Garfied, a giant metal chicken named Beyonce, and a terrifying stuffed monkey named Copernicus.  They're like my posse.  My terrible, terrible posse.
http://thebloggess.com/2011/06/and-thats-why-you-should-learn-to-pick-your-battles/
http://thebloggess.com/2011/07/would-you-like-to-buy-a-monkey/
Zazzle: If you could be a superhero, what would be your super power?
Jenny: I'd like to have really great hair.  I know that's not technically a super-power, but from what I've learned in comic books any super-power I had would be immediately taken advantage of by the government.  I doubt the government would want to co-opt my gorgeous, shiny hair.  Also, I'd like a pony.  And to make people who were mean to me immediately gain 10 pounds and have no idea how it happened.  That would be an awesome superpower.
Zazzle: What has been your favorite design you've created, and why?
Jenny: The Giant-Metal-Chicken photo sculpture was my favorite, simply because so many people read the initial post that it was based on and decided they NEEDED their own giant metal chicken…even if it was just a desk-sized tiny one.  I'm getting pictures from all over the world of people with their tiny, giant metal chickens.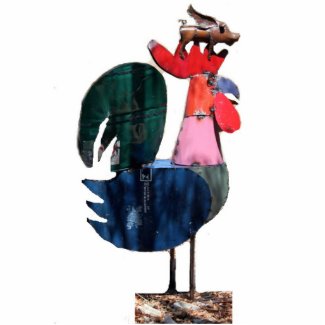 Zazzle: If Hollywood made a movie about your life, who would you like to see playing you?
Jenny: Mindy Kaling.  Love her.
Zazzle: What got you interested in selling your art on Zazzle?
Jenny: A few years ago I sold hand-made wild-boar greeting cards and it was hard as hell and I threw out my wrist.  The next year I turned to Zazzle.  It went so well that I ended up donating the money to people who needed help buying Christmas presents for their kids, and then that snowballed into an accidental adventure where my readers gave over $42,000 in gift cards to strangers in need.  It was weird.  But awesome.  And very hard to explain, here.
http://www.huffingtonpost.com/2011/01/03/todays-huffpost-greatest-_n_803561.html
Zazzle: What tips can you give someone who is just starting out on Zazzle?
Jenny: I would tell them to have fun.  I just make things because it's fun to do.  Even if I don't sell a thing it's a fun process to make Christmas cards covered with profanity and giant boar heads.
Thanks Jenny!