Venetta, from the Zazzle store ButcherTwin, talks about her inspirations and her time as a Zazzler.  Check out the interview below and don't forget to check out her store ButcherTwin!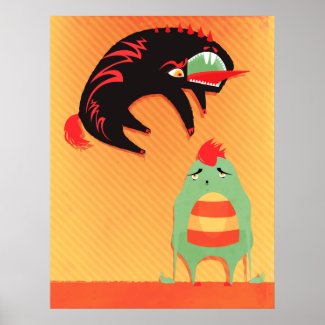 Zazzle: First off, tell us a little bit about yourself.
Venetta: I'm an all-around artist who enjoys digital art, printmaking, watercolors, and black and white photography. I live near Monterey, California and attend art classes at MPC. Currently I am working on illustrations and stories for my characters known as The Rowdies.
Zazzle: When and how did you first become interested in art, and how long have you been making it?
Venetta: I've always enjoyed drawing, but making art for me began once I started using Illustrator. At this time art became my passion not something I did just because I was good at it.
Zazzle: What's your inspiration for your designs?
Venetta: Recently my designs have been inspired by my current interest and thoughts. Ramen Warrior was inspired by a craving for ramen and Surprise Attack was inspired by my boyfriend's cat who stalks and attacks me all the time.
Zazzle: How would you describe your style?
Venetta: I would say that my style is cute, silly and edgy with anime and traditional cartoon roots.
Zazzle: If you could be a superhero, what would be your super power?
Venetta: Retro-cognition: the ability to see back into the past. This ability would go hand and hand with my nosy personality. Plus, I've always been fascinated with supernatural superheroes.
Zazzle: What has been your favorite design you've created, and why?
Venetta: My favorite design is always my most recent, Ramen Warrior is my latest piece. Seeing my progression from piece to piece is what keeps me making art.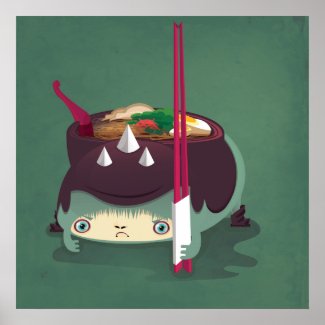 Zazzle: What was the very first thing you made on Zazzle?
Venetta: A keychain featuring my design Itchy Back.
Zazzle: What is your favorite Zazzle product to create?
Venetta: It's a tie between posters and shoes for me. Shoes yield the biggest wow factor. In my mind you know an artist is popular when they start putting their art on shoes. But my store is full of posters; they're just so fun and easy to create.
Zazzle: What got you interested in selling your art on Zazzle?
Venetta: Since learning Illustrator I've wanted to see my art on apparel and on posters. Having a brand has been a dream of mine and with Zazzle I can see what it's like.
Zazzle: What tips can you give someone who is just starting out on Zazzle?
Venetta: Quality over quantity, make sure ever design is done to the best of your ability. With lots of heart and effort in your designs you can't go wrong. Also be sure to promote yourself, if you promote buyers will come.
Thanks Venetta!