New Zazzler Meg, from the Zazzle store meg_stewart, talks about her art, her love of chipmunks, and what she's looking forward to most on Zazzle.  Check out the interview below and don't forget to check out her store meg_stewart!
Bio: Hi! My name is Meg and I'm a Zazzleholic. I'm also a microstock photographer who lives in the beautiful countryside of Northeastern Pennsylvania with my husband and our band of rascally wildlife.  I love chipmunks, nature, peanut butter, and pestering my husband. Life is good.
Zazzle: What's your inspiration for your designs?
Meg: I draw inspiration from everything…. the nature around me, the changing seasons, colors, textures, patterns. I see art everywhere and I love looking at things from different perspectives. When working on a concept for a microstock shoot it will springboard into other ideas. I keep a notebook with all ideas written down! Recently I found a website, Shadowhouse Creations, with free textures for commercial use – it has completely inspired me in a whole new direction. My art is on another level because of it – the inspiration is endless.  The man behind it is an amazing artist/photographer!
Zazzle: How would you describe your style?
Meg: My style is very varied – I don't like boxing myself in to one thing. I swing from cute & cuddly to fun & quirky to rather creepy! I'm also fond of abstracts and inspirational quotes.
Zazzle: When did you first become interested in art? How long have you been making art?
Meg: I have been interested in art forever, it seems. As a young child my favorite gifts were always crayons and a new doodle pad/coloring book (I still have crayons from when I was 5!) Photography was a natural extension of my love for painting & drawing. Once I went digital in 2004, there was no stopping me! I've never looked back. The possibilities are endless. (And crayons are still a favorite gift – a girl can never have too many crayons!)
Zazzle: What's your favorite Zazzle feature?
Meg: My favorite Zazzle feature would have to be the "Customize It" function when creating products. It is so easy to use, and combined with the fonts offered,  I am able to really maximize every design's potential – picking just the right font and color.
Zazzle: What has been your favorite design you've created, and why?
Meg: Wow, this is a tough one! It would have to be one of my little Furballs of Happiness designs. Chipmunks are the second greatest love of my life. Cute and cuddly, fat and fluffy… oh so adorable! The sweet little baby chipmunks wearing Santa hats is an all-time favorite.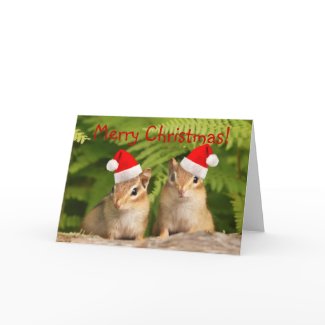 Zazzle: Being a newer seller on Zazzle, what are you looking forward to the most?
Meg: I'm looking forward to growing my business on Zazzle, expanding my store & creating better products, networking more. And definitely working my way up the Pro Seller badge scale!
Zazzle: What got you interested in selling your art on Zazzle?
Meg: As a microstock photographer I have a vast portfolio of work already being sold that is well suited to Zazzle designs. A fellow Microstocker and Zazzler, Stacey Lynn Payne, turned me on to Zazzle. It's a great outlet for all of my standard stock images, but also my more adventurous and artsy work that is not suitable for microstock. It's wonderful and exciting to have someplace to feature these other works of art/photographs that would otherwise never be seen!
Zazzle: What tips can you give someone who is just starting out on Zazzle?
Meg: Some of my tips would be:
#1 – Treat  it like the business it is. Spend time on it, daily (even if it's not a lot of time!).
#2 – Don't rush. Don't blow through Quick Create (which is great tool, used correctly) and slap your image on everything Zazzle offers. Take your time, don't leave white borders, etc. Sometimes I leave a design "In Progress" for days, tweaking it, refining it. Now I return to my very first designs at Zazzle and think *ugh* time to re-do!
#3 – Write good descriptions and keywords. Don't be shy!
#4 – Use the forums! The Zazzle community is a wonderful, knowledgeable, very giving community. Every time I have a question or problem, the answer is somewhere in the forum!
#5 – Promote yourself. Start at the forums, Squidoo, blogs, etc….
#6 Have Fun! It's the most important tip of all!
Thanks Meg!