Thaneeya, from the Zazzle store thaneeyamcardle, shares with us her multicultural inspirations as well as her immense gratitude for online commerce. Check out the interview below and don't forget to check out her store thaneeyamcardle!
Zazzle: Hi, start off by telling us a little about yourself.
Thaneeya: My name is Thaneeya McArdle and I'm a full-time artist and entrepreneur.  In addition to creating art, I run several art-related websites: an art instruction website, an online art community, as well as my online storefront that showcases my products for sale, the majority of which are Zazzle products! Aside from my art obsession, I am also addicted to travel and books.
Zazzle: When did you decide to create art professionally?
Thaneeya: At the end of 1999, I decided to major in Art in college.  That's when I knew I'd need to sell my art to survive.  There was no other lifestyle I could imagine, so I knew I had to make it work.  Thanks to the Internet, my dream became a reality.  I am so grateful for having been born in this time and place, because if I'd have been born a generation earlier, I'd probably be stuck in a job I hated just to pay the bills, with little time to do art on the side.  But the Internet provides the tools for artists – even emerging artists – to make a healthy living.  It's awesome!
Zazzle: What inspires you?
Thaneeya: So many things inspire me!  Anything with vivid colors and detailed patterns, such as alebrije (Mexican folk art sculptures), Tibetan thangkas, Persian miniatures, Indian textiles, Mexican Huichol art, Peruvian retablos, Aboriginal art, modern abstract art (particularly Paul Klee, Hundertwasser and Kandinsky)…
I'm also inspired by the materiality of my art materials – the texture and viscosity of the paint, the waxy quality of my colored pencils, and the glittery sheen of patterned craft paper.  Just looking at art materials makes me want to create with them!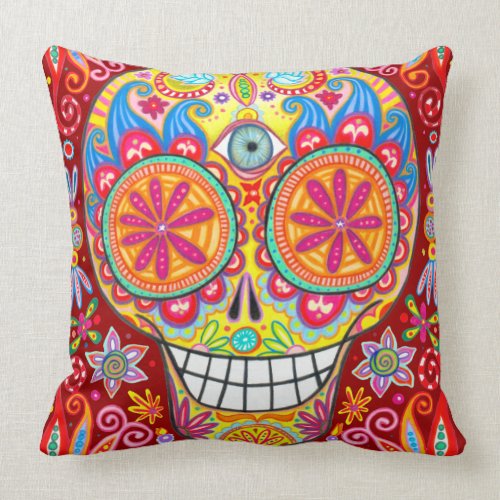 fZazzle: How would you describe your style?
Thaneeya: Funky, eclectic, and detailed!  I love detail – whether it's an intricate abstract or hyper-realism.  I could never stick to just one style (that would be too stifling), so I swing between making abstract art, whimsical art, photorealistic art, and combinations of these different styles.  Each style offers so many different opportunities for self-expression.
Zazzle: What's your favorite medium to use?
Thaneeya: For painting, acrylics are my favorite medium.  For drawing, I prefer colored pencils.  I love the rich colors that can be created with both.
Zazzle: Where's your favorite space to create?
Thaneeya: Anywhere!  I paint on a tabletop easel in our lanai overlooking a sleepy bayou, which is a quiet, inspirational place to make art.  When I'm drawing I often like to just sit on the couch with my colored pencils or pens, because it's so comfortable.  Since my drawing materials are portable, I like to take them with me when I travel, to sketch or draw from different locations.
Zazzle: What got you interested in selling your art on Zazzle?
Thaneeya: It just seemed like such a cool idea.  In the beginning it was such a novelty to see my art on t-shirts and products, so I did it for fun… when I first started, I never realized that it would grow to be a genuine source of income over the years!
Zazzle: What was the first product you ever sold on Zazzle?
Thaneeya: My very first sale on Zazzle was actually a batch order of 105 Day of the Dead sugar skull shirts, all sold to the same customer on October 4, 2006.  What an encouraging first sale that was!  This was one of the shirts he ordered:
Zazzle: What tips can you give someone who is just starting out on Zazzle?
Thaneeya: First of all, create great art!  That's the most important thing.
Another thing to keep in mind when you're just starting out is that Zazzle offers an overwhelming amount of different products, so don't try to put your art on every single product available.  Be discerning and only post an item for sale if the artwork actually looks good on that item.  For instance, a landscape painting probably wouldn't look good on a hat, but it might look great as a mousepad.  You get the idea!
Zazzle: Can you give us a sneak peek of future designs?
Thaneeya: I don't have any images ready to share yet, but I am currently working on more sugar skulls and more funky owls.
Thanks for sharing Thaneeya!