Ahoy, me hearties! It's that time o' t' year, when landlubbers everywhere get in touch wi' their inner buccaneers. What's this, ye say? Blimey, ye didn't know? Lend yer ears! Not only be today International Talk Like A Pirate Day, this year's t' 10th anniversary o' t' fine day! Yarrrgh!
Aye, a little background for ye scurvy dogs and bilge rats who haven't been keepin' up with t' important holidays. You've got John Baur and Mark Summers (or Ol' Chumbucket and Cap'n Slappy, as they're called) t' thank for dreamin' up this booty o' a day. Wi' a lil' help o' Dave Berry back in 2002, what could've been just a crazy an' brilliant idea has now turned into a worldwide day full o' piratey parrrrrty an' swashbucklin' fun.
Still feel like ye need t' brush up on ye pirate lingo? This video will get ye t' old salt status in no time. (T' more nautically inclined may want t' try their hand at some pirate pickup lines t' make the sea wenches swoon.) So what be ye waitin' for, scallywags? Get yer pirate booty below, weigh anchor an' hoist the mizzen!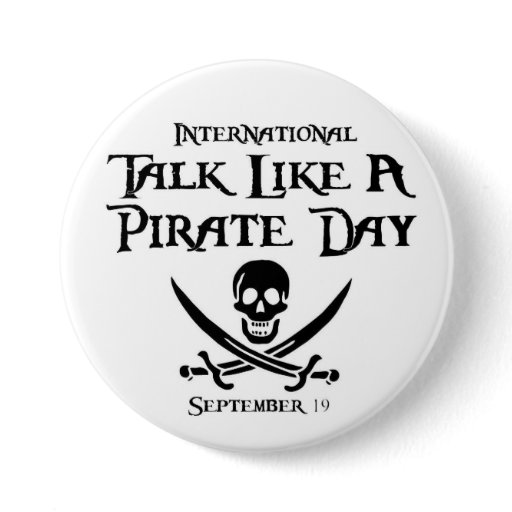 Wear it loud and wear it proud, mateys!

For all ye baby buccaneers out there!