One of Zazzle's biggest fans is AudreyJeanne, artist extraordinaire with a background in watercolor, graphic design, amalgamated art, calligraphy and more. She paid a visit to our Z headquarters recently and we chatted with her about her background in art, what she loves to design and why she loves Zazzle with a passion.
I wish Zazzle existed back in the day, when my kids were little. I'm a professional artist — I've done it all and seen the art world change. As a licensed artist, I can tell you firsthand that it used to be that you could have thousands of images and art that are market worthy, but most wouldn't see the light of day. It is almost impossible to get your art out there unless you have a great agent or go through the tedious work of doing art show circuits and hope that one or two collections will be picked by a store or a manufacturer. I'm blessed with the best of both worlds, a great agency, MHS Licensing, and a place to test and prove my designs prior to offering them for licensing.
As a licensed artist, you have to be aware of trends, yet you still have to have your own unique vision. There's tremendous pressure. The joy of Zazzle is that I can get to do what I love and not be a slave to whims or an art trend. I don't have to bang on doors. I don't have to have one niche (though I do love elegant, vintage and feminine) and I can let the different sides of me show. I can stay at home, do what I love and be who I am. Zazzle gives me a place where I can take my art and say, "Where can I put this?" To me, that's amazing. Zazzle is a phenomenal outlet for artistic expression and I encourage all artists out there to give it a try.
My personal style is varied — I love elegant, sophisticated and modern, and tend towards traditional with a touch of edge. I love the invites on Zazzle and love designing for weddings. It's really a two-way street with customers — you have to be open to feedback. I try to create invites that fit their individual style, as well as color pallette. What's so fun about Zazzle is that I'm able to have many stores with varying styles, some that you'd never expect from me. I have the freedom and support to create!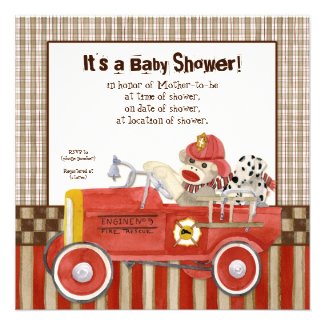 Sock Monkey, Fire Truck Boy Baby Shower Invitation
by
AudreyJeanne
Tags: art, artist, edge, elegant, images, invites, modern, seller spotlight, traditional, vintage, weddings, Zazzle