America the Beautiful…America the Brave…God Bless America. These words resonate deeply within the minds and hearts of Americans, especially on the 4th of July.
We take a moment to pause and reflect on our freedom. And then we celebrate! Fireworks, festivals, barbecues…the sights, sounds, and smells of the day are what we look forward to every year. Right in the heart of summer, the mood and spirit cannot be beat.
Planning a 4th of July get-together? Invite a few pals or the entire neighborhood over. Set the tone with the right plates for the good eats.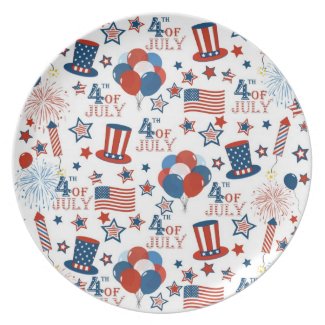 USA 4th of July Symbols Dinner Plate by redwhiteandblue
Make the festive mood stick…with stickers. Simple fun for kids and adults alike. Use them on your party flyers or just stick 'em anywhere.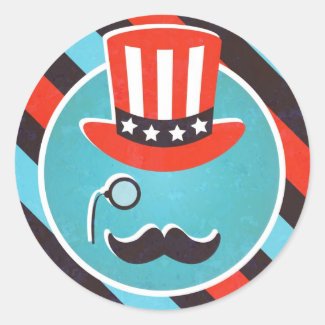 Mustache Monocle 4th of July Party Stickers by youreinvited
Today's the day to show your pride and patriotism. The number one way to do it is to sport a comfy tee, foam-finger style.

USA Numero Uno T-shirt by USsupply
And why stop with a shirt? Add a little red-white-and-blue flair to your holiday attire. Wear the flag proudly.
Boom! Crack! Boom! Sit back, relax, and enjoy the fireworks tonight.