Whether you're decorating a nursery for the first time, or in the mood to re-decorate your child's room, we can help you get started. Give that room the "Awwwww" factor with an adorable animal throw pillow. With so many to choose from, you can make that room look like a jungle, farm, or forest.
Little pink pigs. You can't help but smile when you see one. And your little one will squeal with delight with this pillow: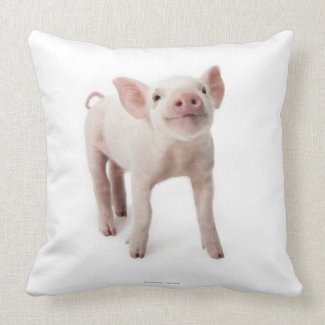 Pig Standing Looking Up Pillows by prophoto
This baby Chihuahua pillow adds just the right touch to a baby's room. So sweet:
Chihuahua Puppy (6 weekds old) lying Throw Pillows by prophoto
Or give your cute little monkey a cute little monkey throw pillow:
Little Monkey Throw Pillows by POPPYGIG
When you're through decorating, you won't be able to stop saying "Awwwww." Get started today!
3 Responses to "Cute Critters"
Zazzle News: Cute Critters | teeblr Says:
August 16, 2013 at 1:59 pm |

[…] room look like a jungle, farm, or forest. Little […]…Read the complete post over at Zazzle Blog. Create custom t-shirts and gift items at Zazzle and create your own small […]

Nicole Says:
August 17, 2013 at 6:55 am |

That is cute! :-)

moskvarek63 Says:
August 17, 2013 at 9:59 pm |

Michael Oskvarek moskvarek63@gmail.com I have a Zazzle store and would like to include your Critters. 8/18/2013 1:00 AM
---