The origins of Valentine's Day are slightly fuzzy, like a scratch-'n'-stiff sticker, but we do know that in the year 496, Pope Gelasius declared February 14 St. Valentine's Day, a Christian feast day. And by the 17th century, the holiday was firmly linked to love. How can we tell? Shakespeare, of course. Ophelia says in Hamlet:
To-morrow is Saint Valentine's day,
All in the morning betime,
And I a maid at your window,
To be your Valentine.
It doesn't get much more vintage than the universal day of love, with love-notes, chocolates, candlelight and a gazillion popped champagne corks.
How can you top off the day with the perfect gift? Go vintage, or go home.
If you're throwing a bash, set the love-filled mood with the Valentine's Day Party Vintage Cute Kids invitation. With earnest, bashful, blushing faces like these, who could possibly RSVP no?
http://www.zazzle.com/valentines_day_party_vintage_cute_kids_simple_fun_invitation-161186990198944262
For a gift that reminds your beloved every day how much you care about them, and adore them, keep their tea or coffee cosy and cuddled in the Heart Tamer Retro Valentine mug. It brandishes the assertion, "I shall tame your heart, Valentine!" And how: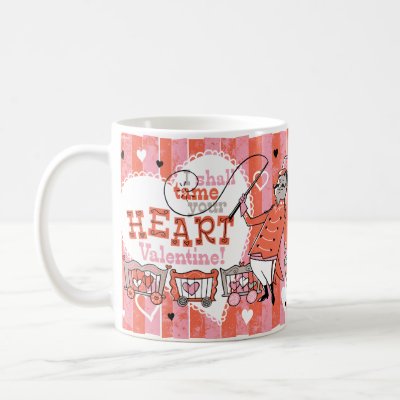 http://www.zazzle.com/heart_tamer_retro_valentine_mug-168080006971010755
To keep the sweetness flowing all year, get them the Vintage Girl Valentine jelly tin, adorable and punny, always ready for a refill of jelly beans or mints. The red-cheeked, smiling blonde girl proclaims: "I'm pie-ning for you, Valentine!" And we're pie-ning for it: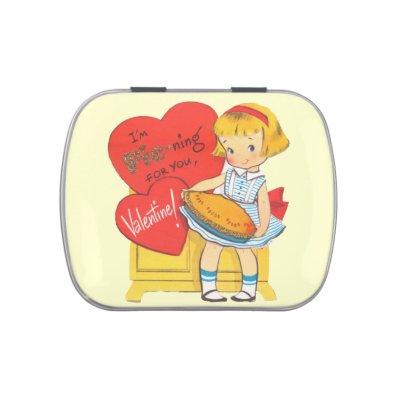 http://www.zazzle.com/vintage_girl_valentine_jelly_belly_tin-256812761282003083
May your day be filled with old-fashioned love!