Remember the classic episode of Seinfeld (one of many) called "The Opposite," where George and Elaine's fortunes take turns going up and down, while Jerry remains "Even Steven"?
As always in Seinfeld, art is imitating life – and football. Sometimes you're up, sometimes you're down, and sometimes you're just the same.
Take Stanford and Cal: depending on whether you're a Cardinal or a Bears fan, this season was awesome or awful. Their records are almost exactly opposite:
Cal: 1-11 (0-9 Pac-12)
Stanford 11-2 (7-2 Pac-12)
At this year's Big Game, Stanford beat Cal 63-13, but then lost to Michigan State 24-20 in the Rose Bowl.
So how do you side? (If we had to, by the way, we might have to go with the Cardinal. Our three co-founders – CEO Robert Beaver and his sons, Bobby and Jeff – are proud Stanford alumni!)
Whatever your team, this swag will make your loyalty clear in three key Stanford-Cal rivalries.
Battle of the Nerds: Given the colleges we're talking about, you'll probably need killer fan gear that also protects your iPad. For Stanford, the Black Block "S" with Tree iPad Sleeve is perfect for coffee meetings in the Valley:
http://www.zazzle.com/black_block_s_with_tree_reversed_ipad_sleeve-205426268526234224
Bears, you'll want to sport (tee-hee) the Gold Paw iPad Sleeve to keep your tablet safe:
http://www.zazzle.com/gold_paw_ipad_sleeve-205004085044058720
Battle of the Seal: In the same nerdy vein, we have just the right notebooks for you. (Remember those? Before we all had laptops and smartphones?)
If you cheer "Go Stanford!", take a Stanford University Seal Spiral Notebook for the road: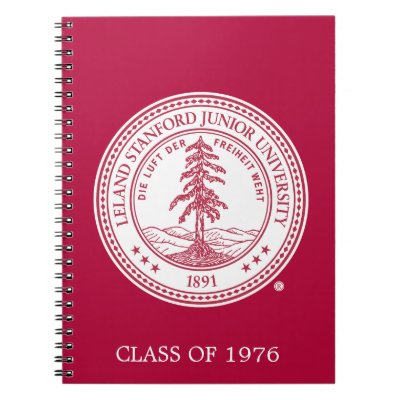 http://www.zazzle.com/stanford_university_seal_white_background_notebook-130744755278235499
If you shout "Go Bears!", you'll want to stick the UC Berkeley School Seal Notebook in your  bag:
http://www.zazzle.com/uc_berkeley_school_seal_gold_and_blue_notebook-130402994326566026
Battle of the Dogs: Obviously, your dog also needs to take sides. That means the Party With Trees Doggie Tee for a Stanford pampered pooch:
http://www.zazzle.com/party_with_trees_doggie_tee-155961184888547846
Bears, go for the UC Berkeley Mascot Logo Doggie T-shirt for your game day companion:
http://www.zazzle.com/uc_berkeley_mascot_logo_doggie_t_shirt-155753835865782161
Here's to the next Big Game, in style.