When it comes to chickens in the kitchen, we aren't clucking around. There's a reason these feathered friends have been a staple in kitchen decor for over a century, and here's why — chickens are awesome.
Whatever your style, we've got a chick for you. We did a little hunting and pecking and found these great farm-fresh favorites that will give your kitchen a small taste of the country life.
Check out this fantastic wall clock featuring a prominent watercolor of a Barred Plymouth Rock rooster, looking just a tad bit cocky. There's no room for numbers in this simple showstopper, but who needs 'em when you've got this gorgeous guy hanging out.
http://www.zazzle.com/chicken_barred_plymouth_rock_rooster_wallclocks-256170844996611094
Cut it out. No, really—use this vintage-inspired cutting board to slice and dice all the produce you come across. Rich hues of reds, blues, yellows and greens comprise this old-school ad for Morningside Canadian Apples featuring a rooster crowing at the morning sun.  Pay homage to America's favorite dinner guest, the chicken, with this classic design.
http://www.zazzle.com/morningside_canadian_apples_vintage_fruit_ad-256639647725167787
How cute are these Chubby Chicken napkins? Even if dinner is a disaster, your guests will still be raving over the polka-dotted folk-art chickens and eggs that adorn these green, printed cloth napkins. They are truly egg-cellent.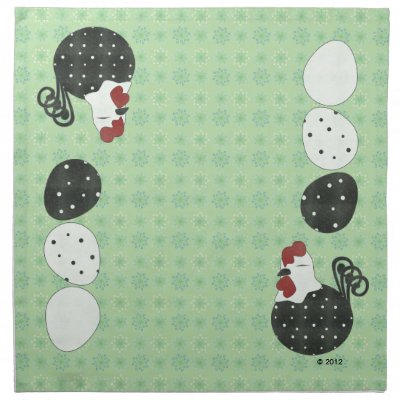 http://www.zazzle.com/chubby_chicken_printed_napkin-185964101443245277
For us mere mortals, mornings are not always the high point of the day. Put a little pep in your step by doing the Funky Chicken with this funky coffee mug. Harness your inner rooster and bask in the orange, blue and pink feathers that make this bad bird a morning favorite.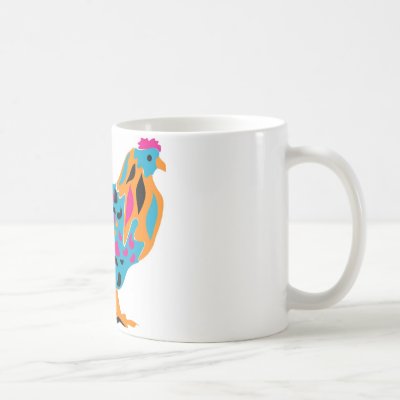 http://www.zazzle.com/funky_bright_chicken_coffee_mugs-168720205796074434
No kitchen is complete without a good recipe binder. Check out this classic we found. This Vintage Chicken Recipe Binder has the quintessential country-red checkerboard pattern against a weathered backdrop and is completed with a front-and-center illustration of a pretty prestigious rooster. Best of all, this binder is totally customizable, making it a great gift for the special chef in your life or an easy way to label the recipes that are yours.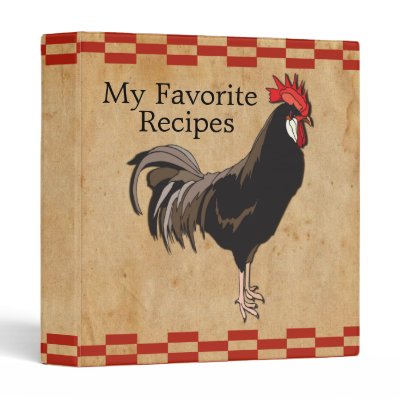 http://www.zazzle.com/vintage_chicken_recipe_binder-127053540497766427
Channel your inner farmer and represent the kitchen-classic chicken in a chic way through any one of these styles.