Harlequin is a pattern that has truly stood the test of time.  Where did this diamond-shaped checkerboard print get its start? For this little history lesson, let's take a trip to Italy in the late 1500s.
During the Italian Commedia Dell'arte days of the 1580s, Harlequin was not a pretty pattern, but a stock character in many theatrical performances. He was typically portrayed as an astute servant who was lighthearted and jovial, and always got the girl.
In these performances, the playful Harlequin would rival against Pierrot, a sadder, stern character, for the mutual object of their affection, Colombine. Harlequin always wore clothing that was adorned with a diamond-shaped checkered pattern, symbolic of his good nature. Conversely, Pierrot's clothes were plain and white, fitting with his more boring, somber persona.
The duds that Harlequin made famous ultimately traveled the trails of time and made their way to the 21st century. The pattern is still found in many places — especially ones that speak for the same lifestyle defined by our fabulous friend, Harlequin.
While Harlequin was a funny guy, we definitely aren't clowning around when it comes to representing the best of Harlequin style. Step your style up a notch by incorporating some harlequin into your space.
Give your living quarters some pizzazz by adorning the walls with this classic Paul Cezanne print, the aptly named Pierrot and Harlequin, which portrays the two walking side by side. Vivid colors and that prototypical harlequin pattern make this piece of art a quintessential sample of Harlequin at his finest.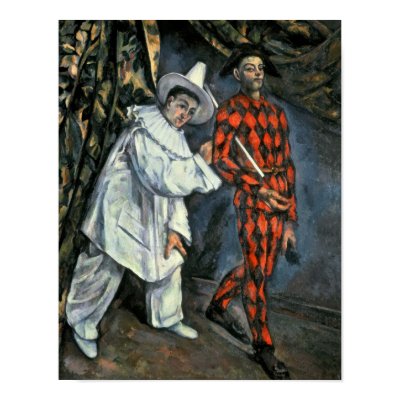 http://www.zazzle.com/pierrot_and_harlequin_1888_poster-228913488844859310

Looking for something a little more inconspicuous? Perhaps a print of Juan Gris' gorgeous painting, Harlequin With Table, is more your speed. It has all the joys of harlequin, with a side of confusion. Is it a man? Is it a table? What does it mean? Hang this print on your living room wall and let your guests be the judge.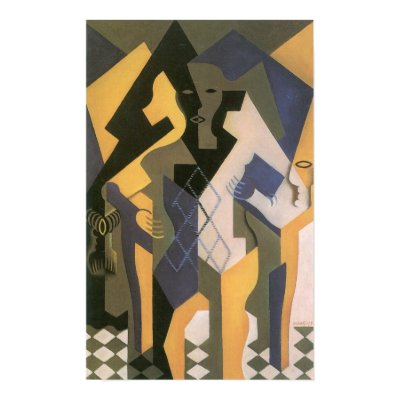 http://www.zazzle.com/juan_gris_harlequin_with_table_posters-228459715067320643
If you're ready to take your harlequin love to the streets, then you can't go wrong with these snazzy red leggings with a small display of black harlequin diamonds. They're a clear yet subtle way to let your fun side peek through in any outfit. Pair them with low-tops and a long sweater for a casual look, or try them with a pencil skirt, blouse and ankle boots for a work-day favorite.
http://www.zazzle.com/harlequin_diamonds_legging_tights-256208873326105954

There's so much more Harlequin love to go around. How will you make your statement?