In 2012, we partnered with DODOcase to add their amazingly crafted iPad cases to Zazzle.  DODOcases are manufactured locally in San Francisco using traditional bookbinding techniques.  The DODOcase protects your iPad while also giving your device the timeless look of a hardcover book.
Now customers can not only customize the inside of the case, but also choose the color for the exterior.  The exterior is made from black Moroccan cloth, with an eco-friendly bamboo tray and a custom interior liner that you can design yourself.  You can select colors for the exterior cloth – your choice of black, orange, coral, granite, merlot and blue. For the inside of your case, there is a wide selection of designs that would add some spring style to your high tech accoutrements.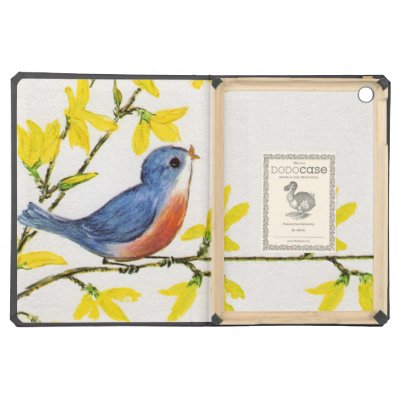 http://www.zazzle.com/cute_singing_blue_bird_tree_branch_ipad_air_covers-256026084010253490
We've got cases for your iPad 2/3/4, iPad mini as well as the iPad Air.  And you can be confident that this case was manufactured locally in San Francisco.  In April 2010, the DODOcase launched alongside the Apple iPad as the original bookbound iPad case.  It's become a favorite among hip San Franciscans as well as anyone with a taste for design and a passion for local manufacturing.
http://www.zazzle.com/goodbye_sf_ipad_folio_cases-256664867067952292
You may no longer be reading hardcover books, but you can enjoy reading on your iPad while also feeling inspired to travel back in time to a previous era when bookbinding was done by hand.  The Dodo bird remains on the list of extinct animals but thanks to DODOcase, bookbinding continues to thrive.