There are two kinds of people on Earth: descriptive grammarians and prescriptive grammarians. Not that we have to tell you that, of course. It's a bitter divide among grammar nerds, and it's unlikely ever to end. (See how we didn't split that infinitive? You're welcome.)
It's all about how we use language and what "correct" English means. Is it the grammar, spelling and syntax from the rules we've made and tweaked over time (say the prescriptive camp), or the language we use naturally every day, with its errors and emphasis on simplicity (retort the descriptive camp)?
We're not going to take a stand; we just want to be understood, and loved. (Notice the semi-colon there?) But you, dear nerd, must pick your side. Do you use the Oxford comma? When to use the semi-colon versus the colon? Whatever side you choose, rest assured you'll have validation (and impeccable punctuation).
The sticklers among you will get a major grammar kick out of the Prepositions Mug, whose meta self-awareness will make you smirk whenever you sip your loose-leaf tea: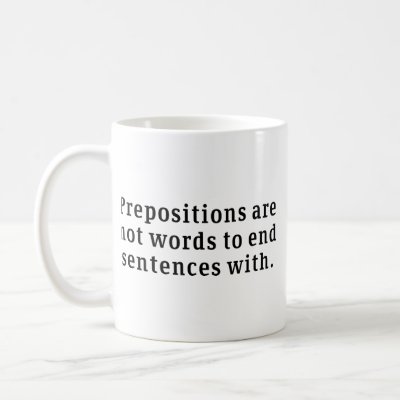 http://www.zazzle.com/prepositions_mug-168009615362418262
Maybe your pet peeve is when people misuse cognates? We know. Breathe. Let it out. It will be OK. Have a sweet hot chocolate, marshmallows and whipped cream and all, in the Grammar Nut Caffeine Effect Mug:
http://www.zazzle.com/grammar_nut_caffeine_effect_mug-168922739809876156
Something else that's sure to affect you, with only positive effects, is our final mug of choice — the classic "walk into a bar" scenario applied to … grammar! Contain yourself. Behave. Get ready for the It Was Tense Coffee Mug, and order two for each of your grammar-nerd friends, since they'll definitely break the first out of exuberance: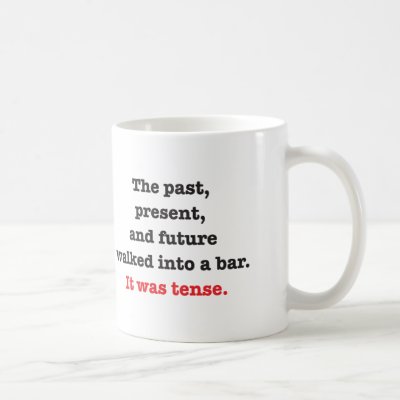 http://www.zazzle.com/it_was_tense_coffee_mugs-168218215693101744
Obviously we don't have to remind you of the panda that eats shoots and leaves (comma-free). We applaud your crusade to keep English clean, fun and full of puns. Word.