Could anyone else eat sushi every day? Between the maki and nigiri, temaki and sashimi, the wasabi, ginger, soy sauce and chopsticks (please don't tell us if you use a fork), it's an adventure every time. Especially when there's a conveyor belt: how do you choose from all the options coming straight to your seat? Watching chefs slice the fish finely with mega knives, rolling it yourself at home, happily devouring it … it's all a treat.
We had no idea that sushi has existed since around the 8th century – originally in Southeast Asia, to preserve fish and meat in fermented rice. The sushi we now know (and could eat every day) was created in the 18th century. Now, in Japan, it's basically fast food. Could all fast food here please be sushi, too?
Until that happens, it's also possible, of course, to bring the sushi bar to you. There's nothing like a Kawaii Sushi Platter Poster, with a bowl full of smiling nigiri, to inspire you to whip up some sushi rice or high-tail it to a sushi restaurant. The kanji on the side of the bowl even says "sushi"!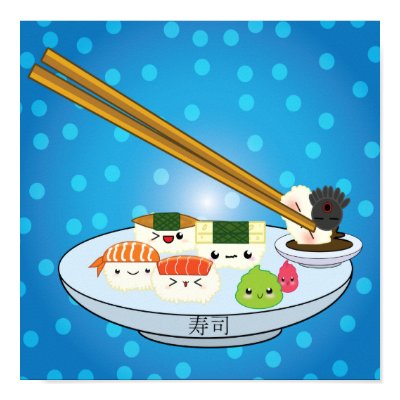 http://www.zazzle.com/kawaii_sushi_platter_poster-228453450319609456
The Rainbow Sushi Mat Poster is your psychedelic option: a technicolor sushi-splosion entirely in neon. Could there be a more perfect midnight snack than the California Roll?
http://www.zazzle.com/rainbow_sushi_mat_poster-228962111470426591
For a work of art that's even more impressive than sushi, the Sushi Bowl Ukiyo-e Poster is gorgeous, understated and very grownup. Ukiyo-e was a type of Japanese woodblock prints and paintings that thrived in the 17th-19th centuries, and one of its major artists, Utawaga Hiroshige, created this work in the 19th century. Taking hold in the West, ukiyo-e also helped create the vogue of Japonisme and influenced leading Impressionist, Post-Impressionist and Art Nouveau artists. Not bad: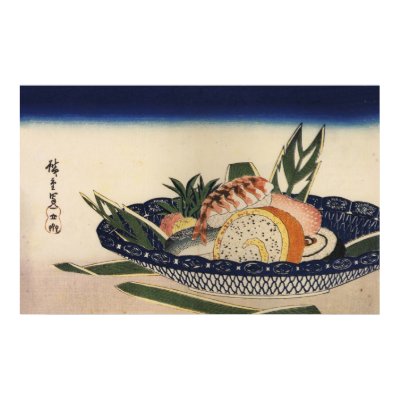 http://www.zazzle.com/228211035853713953
Coming up next (and last) in our ode to Japan series, we'll dish out our top ideas for inspiration, Japanese-style.