Until recently, we lived in ignorance about everything strawberries do for us. Wow, are they high achievers! Did you know?
Eight strawberries have more Vitamin C than an orange – that's 140% of our recommended daily intake.
They're full of ellagic acid (which can help fight cancer) and flavonoids (which help lower cholesterol).
They have zero fat.
The acids in strawberries naturally help whiten your teeth.
And, they're part of the rose family! (Along with raspberries.)
They also taste amazing on their own, in salads, in trifles and crumbles, over ice cream or pancakes (or both), in strawberry shortcake and pies. Strawberry-rhubarb pies …
Can it get more summery than strawberries? Let's kick off this most bursting of seasons with a bang!
The sun's high above you. Your towel's under you, surrounded by sand. The waves are coming in softly. Your shades shield your eyes from the bright light. You're on your back, head on your hands. It's almost time to meet the gang for (strawberry?) ice cream. You check your Pink Strawberry Wristwatch – ten more minutes of ahhh: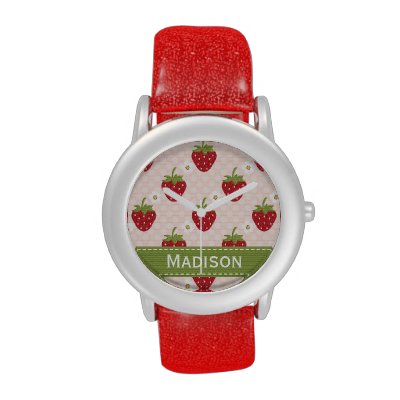 http://www.zazzle.com/personalized_pink_strawberry_wristwatches-256768657141866685
You're pedaling at a lazy pace. Families, lovebirds, buff bods amble along the boardwalk. Volleyballs are flying, picnic baskets opening, tunes blaring, shrieks of laughter. Boop, goes your phone. You get it out of your cutoffs, other hand on the handlebars, and it drops. No worries – the Pink and Red Strawberry iPhone Case kept it cozy and safe: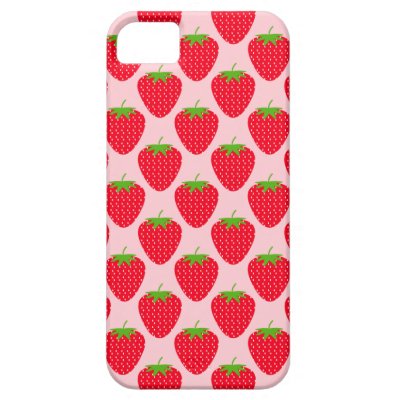 http://www.zazzle.com/pink_and_red_strawberry_pattern_iphone_5_cases-179166203488977549
Your patio's decked out. Pandora's on, glasses are clinking, dinner's on the grill, smoke smells like BBQ sauce. Everyone's cross-legged and chatting, sitting back on your latest find, the Pink Strawberries Pillows. "Love it!," they gush at you, and they're not talking about the wine: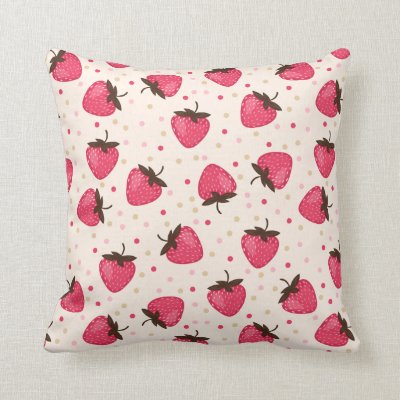 http://www.zazzle.com/cute_and_girly_pink_strawberries_pattern_napkin-185869852048917137?pt=pillow-189600932897930231
To summer!