As we all know, there is a nail design for every woman (or manicure-loving man). Umpteen designs, in fact – so many kinds that we used the word "umpteen" for the first time in years. Each of your nails could have new nail art every day for the rest of your life, without running out.
There are nails matched to shoes. There are 3D designs. There are jewels, flowers, animals, glitter, breast cancer ribbons, and bows that are even bigger than the nails they're stuck to.
So obviously, the thing to do is: make a sleepover out of it! Get the gang together, order in dinner, get a playlist going (loud) and decorate the night away.
The only thing you have to do ahead is: buy that art. And where do you start, with all the umpteen options?
For the friend who loves the natural world, things that flutter and fly and spend their days perched on flowers, the Butterfly Finger Decal is gorgeous and light in purples and pinks, with a touch of white. It's a multi-hued nod to nature that's subdued but 100% standout: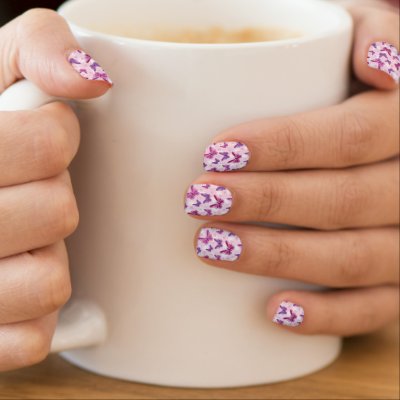 http://www.zazzle.com/butterfly_pattern_ipad_folio_case-256517220727457973?pt=minxnailart-256099733628950510
For whoever's feeling punchy and hip, with a flair for the whimsical, the technicolor, the Hipster Stripes Nail Wrap manages to mix teal, black, aqua, and pink and work it — classic hipster. Somehow it's insane and irresistible: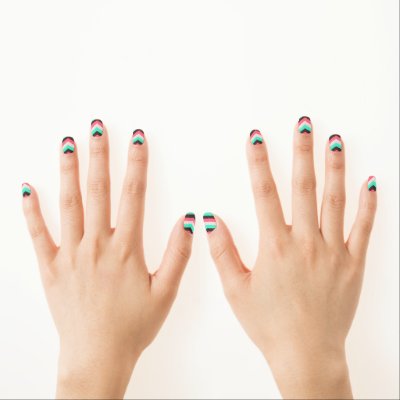 http://www.zazzle.com/teal_black_pink_and_aqua_hipster_stripes_nail_wrap-256583830288343761
Back on Earth, give your chillest friend an ethereal look that's bubbly and floaty, but with pizzazz. The Watercolor Polka Dots Nail Wraps start with white, dotted with turquoise, purple, and pink – like the funkiest champagne you've ever seen (and instantly had to have):
http://www.zazzle.com/turquoise_pink_girly_watercolor_polka_dots_pattern_minxnailart-256922116745249975
The only question left is: what's for breakfast?