Damask is that pretty little ornate pattern you see just about everywhere you go. It's pretty popular in formal events — weddings, bat mitzvahs, elegant tea parties — and it certainly has received a lot of praise in fashion lately! Where did this elaborate woven-look come from? The roots go as far back as the early Middle Ages — and no, not the 1950s. We're talking Islamic and Byzantine weaving era, here. Originally, damasks were primarily monochromatic, with a repeated pattern sewn in metallic-colored thread on a backing of the same, flat color.
The word "damask" actually comes from Damascus, which was the place to shop back then. Damascus was part of the Silk Road, the major trading city of its time. People would travel from miles around to trade goods and, hopefully, go home with some fantastic fabric from which to make all of their home furnishings and clothing. Fourteenth-century France is where the term first popped up in writing, but just because it's old doesn't mean it's outdated. Damask is a classic that is always trending. It's an archetype of class and status, regal, if you will. While the colors and images are constantly changing to fit more modern times, the style remains a staple of fashion today.
So, if you're feeling like you could use a little sprucing up on the fancy fashion front, but aren't sure you want to drench yourself in damask like a diva of the Byzantine era, try carrying a little with you in your handbag. These three items are sure to put a little relic of regality in your heart.
Need a mint? How about a safe place to stash some cash? Do it in the classiest way possible with this beautifully done black-and-white damask candy tin. Make sure everyone knows just who that little tin belongs to by customizing it with your name.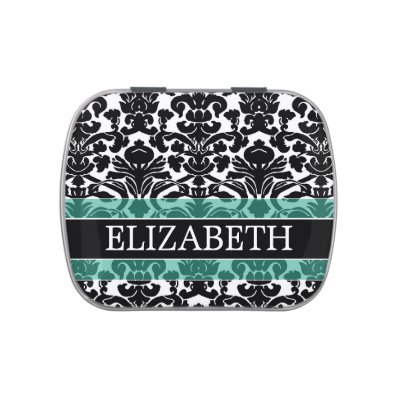 http://www.zazzle.com/black_and_white_damask_pattern_with_custom_name_candy_tin-256389073615998459
When you have places to go and people to see, you've got to make sure that passersby recognize just how fancy you are. Say it loud without saying a word with this regal travel tag. Your luggage will announce your arrival in style and class. Best of all, no one will accidentally grab your suitcase because this tag will set you apart!
http://www.zazzle.com/modern_damask_black_and_white_personalized_luggage_tag-256563916733345380
This artichoke-patterned damask print wristlet comes in a gorgeous eggplant color. Artichokes and eggplants? You just got two servings of vegetables! Pat yourself on the back, and enjoy dessert out on the town tonight. Make sure to bring your wristlet with you, though!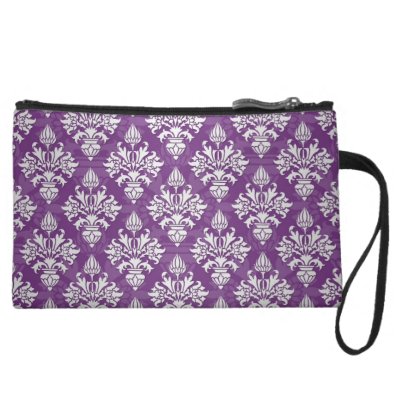 http://www.zazzle.com/purple_and_white_artichoke_damask_design_wristlets-223771689763068299
Try these fresh looks, and amaze your admirers with your history of what makes damask so delightful! There are plenty more where these gems came from, so browse around and see what suits you.